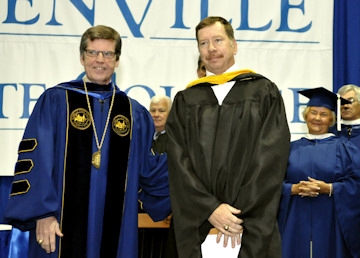 Science professor Larry Baker was recognized Saturday
with the Glenville State College Faculty Award of Excellence.
Pictured from the left are GSC president Dr. Peter B. Barr
who presented the award, Baker, and Sue Morris, Chairman
of the Board of Governors, looks on from the background.
Story and Photos by Drew Moody
Graduations and the typical celebration of New Year's share several common themes including acknowledging transitions and new beginnings.
It signals an end as well. While some will continue their education pursuing advanced degrees, most will likely enter the workforce.
They'll be leaving the relatively insulated world of higher education and step into a very different reality...the workplace. Depending on a myriad of factors, often failing logic, those steps can be challenging.
Too often the ideals embraced in college aren't fashionable at work, or politics and personalities unnecessarily interrupt the work flow.
KEYNOTE ADDRESS
Speaking of politics, U.S. Senator Joe Manchin, III, D-WV, gave Glenville State College's 138th commencement address Saturday morning.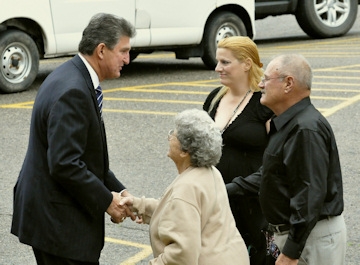 U.S. Senator Joe Manchin, III, was ready to enter the
gym when a family called out wanting to say hello. He
immediately turned and greeted them, as he did with many
others during his stay in Glenville. Manchin's close to his
West Virginia roots and shared some of his personal history
in the Mountain State with the 2012 graduating class.
He seems to be the kind of man it would be hard not to like, who happens to be a politician. On his way from the president's home to the gymnasium, where the ceremonies were held, he stopped and visited with everyone who spoke to him.
As a distant observer, Senator Manchin always seems upbeat and positive. He has a style that makes everything look "easy," as if it was.
And he was Saturday too, despite being skewered in the pages of The Charleston Gazette, whose writers are upset at what they perceive as waffling on the issue of whether he'll support President Obama's re-election bid.
One Gazette writer was kind enough to mention Senator Manchin was the most popular governor in the history of the State, so that tempered their criticism.
Manchin gave an upbeat address, with cautionary warnings about the future, along with some good advice.
"Can you correct the mistakes you make in your life," he asked the graduates?
Life, he told the audience, is about making an ongoing corrections to stay true to the 'inner compass' and not allow mistakes to "get out of hand."
"There's a correction coming to the United States...whether we like it or not," Manchin said. The current debt-load the government has created will force change.
Never straying far from his West Virginia roots suggested our well-being as a country is potentially at risk. He recalled what his grandfather said, "Life is like a bag...you can't take out more than you put in."
He cited several other challenges facing the United States including terrorism, U.S. companies hiding profits overseas, tax policies favoring the wealthy, and our future dealings with Iran, Pakistan, North Korea, and China...to name a few.
The two biggest risks, in Manchin's opinion are continuing to fail to pay down the national debt, and not stepping up competing educationally with our peers on the world stage.
In concluding Senator Manchin professed his confidence the United States will continue to be the greatest nation in the world. "Today is your day," he said, "Your life is in front of you ... congratulations."
AWARDS AND BY THE NUMBERS
Honorary Doctorates of Public Service were presented to Senator Manchin and WV Senator Doug Facemire, D-District 12, Braxton County.
The Faculty Award of Excellence was presented to Larry Baker, of Calhoun County; Dustin Crutchfield was named 'Classified Employee of the Year, and Marlon Henry was given the Student Leadership Award.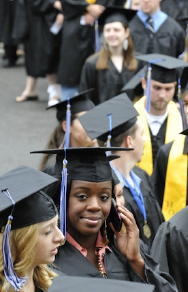 Former GSC Homecoming Queen Kristy Ann Arringon (left) of Orlando, FL, chats on her cell phone while she and other graduates wait to enter the college gymnasium Saturday morning.
A total of 63 students graduated with two-year associate degrees, most majoring in business. Eighteen received forestry/land surveying degrees; 13 were awarded criminal justice degrees. Only two of those graduating with two-year degrees were out-of-state students.
For anyone thinking the profession of teaching was going out of style ... that's certainly not the case at Glenville State College where the majority of graduates are prepared to become school teachers.
Of the 157 four-year degree diploma recipients 38 received teaching credentials. Eighty-six percent of the B.A./B.S. 4-year degree graduates hail from West Virginia.
Perhaps setting a new record at GSC, 25 graduated with a "Regents B.A." with is a general liberal arts degree with no specialization. Twenty walked across the stage to get degrees in psychology/sociology, 16 majored in natural resources management, and 9 were criminal justice majors.