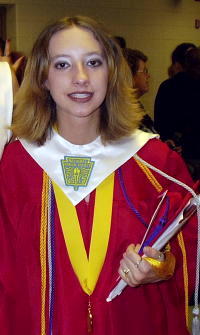 The Melissa Oshoway Criminal Justice Scholarship was formed by friends and family and is in memory of Melissa "Missy" Oshoway, daughter of John and Sue Oshoway.

Missy was in a car accident on Christmas Eve 2004 and passed away on January 5, 2005. In an effort to see that this vibrant young lady's memory lives on, the Melissa Oshoway Criminal Justice Scholarship Fund was formed.

The scholarship benefits a youth pursuing a degree in Criminal Justice and is awarded each year in the amount of $1,000.00.

In 2010, the Committee could not decide on just one youth that qualified for this scholarship, so the Committee gave away $3,000 in scholarship funds, $1,000.00 each to three individuals. This scholarship is available for Calhoun and Gilmer County students.

Missy was a hard worker and very dedicated to school. Those who met her described her as a ray of sunshine.

It is our hope that those who knew her will honor her memory by supporting her scholarship fund annually. In this special way, your gifts will continue to do what Missy loved to do - help others.,P> This is a special tribute to her caring spirit and the funds will assist in the education of students dedicated to achieving their goals like Missy was.

If you would like to help, please send donations to: Melissa Oshoway Criminal Justice Scholarship Fund, P.O. Box 136, Grantsville, WV 26147 or contact John or Sue Oshoway at 304-354-9204 or any member of the Committee.

The Committee has contacted interested students at the Calhoun-Gilmer Career Center this week. Volunteers are John or Sue Oshoway, 304-354-9204, Samantha Cason 304-477-3995, Dotti Nemitz 304-354-7296, Amber Ganoe Welch 304-861-5000 or Beverly Morford 304-354-7249.

The $1,000.00 scholarship will be awarded on May 10 at the Awards Ceremony at the Calhoun Gilmer Career Center.