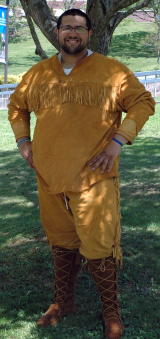 Glenville, WV - Niekoli 'Nicco' Mills, a sophomore from New Cumberland (Hancock County), West Virginia has been chosen as the Glenville State College Pioneer Mascot for the 2012-2013 school year. He was selected after completing the Pioneer Mascot application process which includes an essay, references, and an interview with the selection committee.

"I have always had a lot of school spirit at Oak Glen High School and now here at GSC, so I thought that I would make a great Pioneer. I am going to do everything I can to motivate the students and fans at Pioneer athletic contests and other GSC events," said Mills.

Mills is majoring in criminal justice at GSC and hopes to pursue a career investigating sexual based crimes. He is well acquainted with Pioneer athletics. Mills throws the discus, hammer, and shot put as a member of the GSC Track and Field team.

As the GSC Pioneer, Mills' duties will include attending GSC football and basketball games, tournaments, and other school events. The Pioneer is charged with working with GSC students, faculty, and staff to positively promote and support the college. The official uniform of the GSC Pioneer mascot is a set of buckskins, a coonskin hat, and a musket.

"Niekoli Mills will be a wonderful asset to the Glenville State College community as our next GSC Pioneer. Nicco, as most of the students refer to him, is very humble about becoming the Pioneer. He is truly excited for this position and has some wonderful ideas to get school spirit up on campus. His excitement is truly contagious and I cannot wait to see what he has in store for being the Pioneer," said Jodi Ocheltree, GSC Director of Student Activities and a member of the Pioneer selection committee.

The new Pioneer will begin his tenure at the GSC Fall Convocation on Friday, August 17th. His first football game as the Pioneer Mascot will be on Thursday, September 6th when the Pioneers host Fairmont State University at 7:00 p.m. at Morris Stadium.

"I am going to try to lead by the example of my Pioneer spirit. Hopefully that will help the entire campus and community get excited and involved too," added Mills.

Mills is the son of Munch and Dineen Mills of New Cumberland.