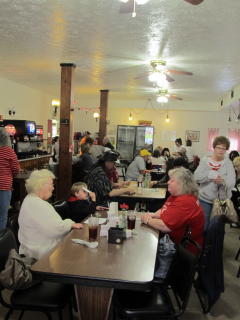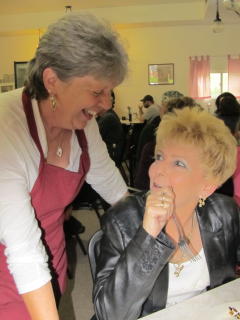 Mom's Place Too opens, Lisa Cooper (R) welcomes customer
The opening of a sit-down restaurant wouldn't be big news in most towns and cities, but in Grantsville WV, whose county seat population has shrunk to 500+, it is.
Grantsville once had a population of over 1,200 and had a number of eateries for over a century, but last year (with the exception of Gino's Pizza) its last sit-down closed.
It was a joyous atmosphere Saturday when Moms Place Too opened its doors, newly remodeled and ready to go.
Obviously folks drove to town for the occasion.
With nearly all the seats taken, co-owner Lisa Cooper said, "This will be a place when the area residents can return to their 'coffee clutches,' enjoy breakfast, a sandwich, a dessert or dinner."
"This endeavor, for us, is more than just a business that will have good food and good service," she said.
"It will be a place for socializing, where old friends, farmers, families, workers and politicians can talk and figure out day by day problems."
"I look forward to serving our older generation because they have so much to offer," she concluded.