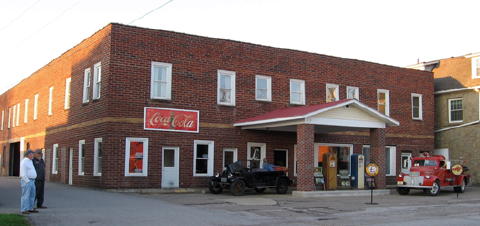 Cliff's Museum of Car Memorabilia on Main Street, Harrisville, will have its 11th Annual Gospel Sing and Open House on Saturday, May 18 from 10 a.m. to 5 p.m.
A highlight will be gospel singing from Victory Baptist Church Singers and Mercy River Quartet, starts at about noon.
Cliff and Sue Weese are inviting the public to the event at their museum, a 13,000 sq. ft. building housing predominately West Virginia collectibles including (as far as they know) the most complete collection of West Virginia license plates.

Other collections in 'The Building' include automobiles from 1927-1977, automotive equipment, chauffeurs badges, drivers licenses, registration cards, automobile titles, state inspection stickers, automobile club badges, license plate attachments, DAV & other key-chain licenses, West Virginia travel guides, state issued road maps, and oil company issued road maps.
See related story WORTH A TRIP - Cliff's Museum of Car Memorabilia In Harrisville