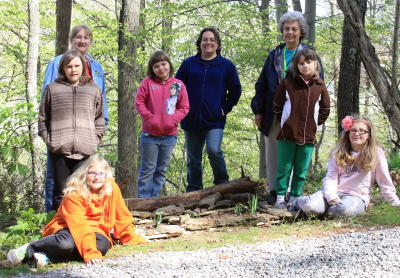 Junior Scouts plant flowers on the Ruth Looney Trail. Seated
Katie Curry (L) and Willow Lane; Middle standing (L-R) Bree
Schoolcraft, assistant leader Dot Curry, Donna Richards, troop
leader Cathy Curry, Ruth Looney, and Cheyanne Tingler
Junior Girl Scouts of troop #4095 are working to earn their Bronze award, the highest honor a junior scout can achieve.
The troop must choose a project that makes a good impact on the community and work for at least 20 hours. They have chosen to help [DART] the local domestic violence response team.
At first they were going to do a book drive, but found the need for much more.
There will be a drive at Pleasant Hill Elementary from May 1st through May 18th. Other drop-off locations are Minnie Hamilton Health Syatems and The Calhoun Chronicle office or you can purchase items at Grantsville's Dollar General. Books will be greatly appreciated and used in the local shelters but they need many different items. To find out how you can help or for a complete list of items needed see the list below or contact Lori at dart@mail.org or troop leader Cathy Curry at cat4095@yahoo.com
Statistics from www.wvcadv.org say, on any given day, West Virginia provides services to almost 600 men, women, and children at the licensed domestic violence programs. A call is made to the domestic hotline every 7 minutes in West Virginia.
In 2009, 15,278 domestic cases were filed at the family court in West Virginia. One third of homicides are related to domestic violence in West Virginia. People from the domestic violence service providers cited, as the number one reason they were unable to serve victims was because of lack of funding. Let's see how much we can help these girls to help our community.
Needs List: Personal Hygiene Products, Baby Items, Shampoo, Condtioner, Hair spray, Deoderant, Pads, Formula, Medium and large diapers, Diaper rash cream, Baby bottles, Pacifiers, Baby powder, New panties, Bottled water, Toothbrushes and paste, WetOnes, Sleepers, Make-up, Bath soap, Laundry soap, Toys of all kinds, Bleach, Towels & wash cloths, Cleaning supplies, Combs and brushes, Sweatpants, larger sizes, t-shirts larger sizes, Lotion, Winter items, Blankets, Pillows, Office supplies, School supplies, Toilet paper, Paper towels, Paper products, Storage bins, First aid items, Band-Aids, Medications - Ibuprofen etc., Hydrocortisone cream, Neosporin cream.