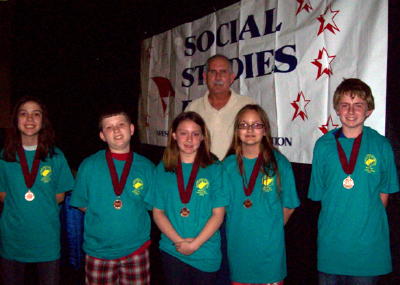 Front (L-R) Natalie Allen, Kaleb Nicholas, Cierra Miller,
Kaylee Jarvis, and Ben Frederick; Back Dan Cosgrove (Coach)
By Dan Cosgrove
Academic Coach
For the last couple of months, five Calhoun Students have been preparing to compete in the National History Day (NHD) competition in Charleston. This is the first time any Calhoun students have competed in this event, and only the second year West Virginia has participated. With different options of designing a web page, writing a scholarly paper, creating a display, or putting on a performance, students selected a performance for their entry.
Each year, the NHD organizers release a theme for the annual event. This year's theme was "Revolution, Reaction, and Reform." Students looked at many revolutions throughout history, and decided to select the ongoing "Arab Spring" that started just over a year ago in Tunisia and continues today with fighting in Syria and continued protests in Egypt and other countries. Finding the words of our own Declaration of Independence appropriate for people who revolt against their own country, students titled their project, "We hold these truths to be self-evidence -The Arab Spring."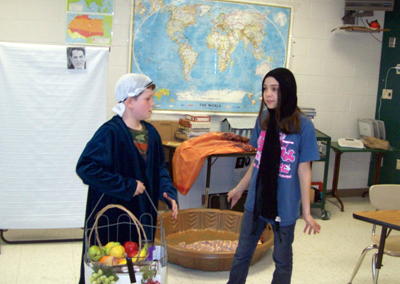 Kaleb and Natalie rehearsing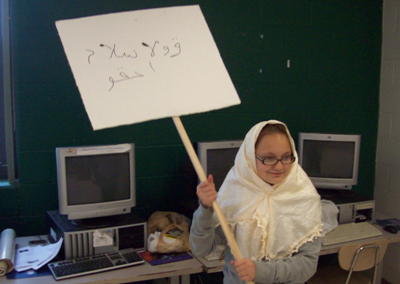 Kaylee Jarvis protesting in Egypt
Although putting on a performance or a play sounded like a fun activity, students could not even think about the play until serious research was completed. Students were also required to submit a process paper on their findings as well as an annotated bibliography. Students worked through many recesses, stayed after school and worked at home on the project.
Students finally began to work on their script, focusing on the fruit peddler and government official in Tunisia that started the revolutions around the world, the downfall of Mubarak in Egypt and the eventual killing of Qaddafi in Libya. To bring authenticity to the play, students learned some Arabic, both to speak in the play and to write their protest signs.
Students then painted their background scenes, made props and rehearsed their play. Finally, on Friday, students travelled to the Charleston Civic Center to join over 300 students from around the state who were competing in either the State's Social Studies Fair or the National History Day Competition.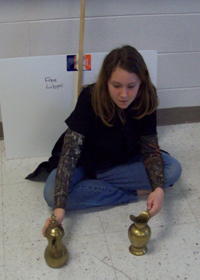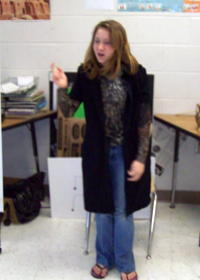 Cierra Miller goes from pouring tea to fighting for freedom
As part of the competition, students have 5 minutes to set up their props and scenery, 10 minutes to perform, and 5 minutes to tear down their project. Three judges watched their performance and questioned them in-depth afterwards. Their hard work paid off at the award ceremony when Calhoun was announced winning 3rd place.
Now the amazing part, these Calhoun students are 11 and 12 years old! These remarkable 6th grade students include Kaleb Nicholas, who played the fruit peddler and person that inspired the protests; Natalie Allen, the government official that harassed him and closed down his business; Kaylee Jarvis, an Egyptian protester; Cierra Miller, a Libyan freedom fighter; and Ben Frederick, the narrator and Occupy Wall Street protester.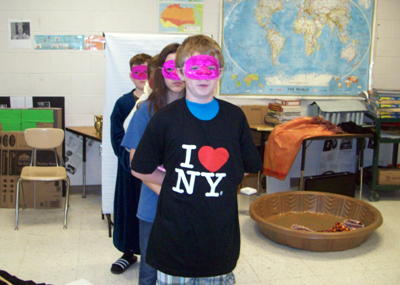 Wearing pink masks representing peaceful protest, the group ends
the play by reciting a portion of the Declaration of Independence
Special thanks go to Tami Allen who chaperoned this nearly 12 hour "adventure," and all the teachers who helped with watching early rehearsals and providing suggestions, proof reading the process paper, supplying paint and other material, and just giving encouragement and support to the students.