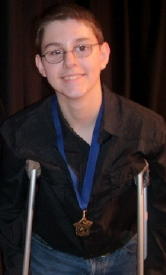 Roane County will be sending a local young man to the National Vocal Competition in Branson Missouri.

CASA of the 5th Judicial Court System sponsored "Branson Showcase", a fundraising event in conjunction with Kids on First Performing Arts, of Tulsa Oklahoma. Providing an evening of entertainment, emceed by famed comedian Michael Lee and featuring four Branson-Las Vegas-Nashville stars, the fundraiser was planned for April 21st at the Alpine Theater in Ripley.

Auditions for the chance to sing in the Branson Showcase with the four stars, qualified seven youth, ages 7 to 18, to compete for the state title with the winner being given the opportunity to compete at the national level in Branson, Missouri.

A local young man, who has won several talent shows, performed in various venues and school functions, and is a featured singer of Roane Arts and Humanities, took the coveted state title. Kurt Shultis, age 14, was a fan favorite with his mellow voice of velvet and worked the crowd despite an injury requiring crutches.

Branson star, Tim Muniz, described his voice as one that "grabs your attention immediately, with pitches that take you from a resonate bass to tenor effortlessly." Mr, Muniz has performed all over the country and has been instrumental in getting two contestants on American Idol, adding that Kurt had "a promising career in music if he continued and could not wait to hear what he could bring to the stage in another couple of years."

Five of the seven youth who qualified for the state competition, were students of the Jackson School of Music under the direction of Mitch Norris. Mr. Norris was very proud of each and everyone of his students and congratulated each on their efforts and hard work.

After the competition, Kurt was asked by the Mayor of Ripley to perform for the home of the largest small town Independence Day Celebration, and he and his twin sister Kami will be competing in the 2012 Texaco Country Showdown during that same weekend.