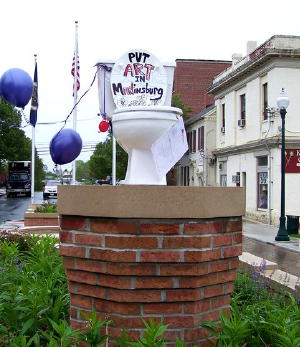 In Martinsburg, 42-year-old artist David Heatwole could be fined up to $500 if convicted in municipal court for littering.
The city had no sense of humor when Heatwole put a toilet on a pedestal in the re-modeled city square and attached a fake bill of sale for "a crappy work of art."
Heatwole, well known throughout the region for his murals, says he was trying to plead for more art in public places.
The pedestal he used was built last year for a planned sculpture of Martinsburg's founder, Revolutionary War Maj. Gen. Adam Stephen.
"I think this will generate public attention, that's why I did it," he said.
The conversation will not likely happen until he faces his littering charges.