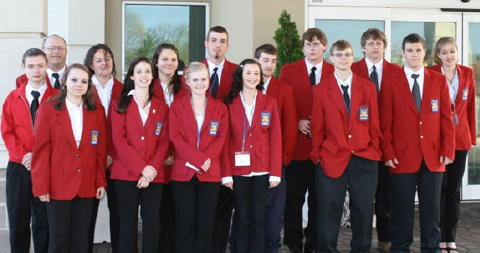 CGCC students in attendance at Skills USA
Front (L-R) Clarissa Price, April Frymier, Bree Wolfe, Marayah Marks, Cameron Litviak, Phillip Norman; Back (L-R) Jerry Stalnaker, John Bixman, Jamie Conrad, Amanda Jenkins, Tyler Thurmer, Devin Toppings, Lester King, Thomas Smith, Courtney Goodwrich
Submitted by Sarah Luczak
School Counselor
Calhoun-Gilmer Career Center
Fourteen students from the Calhoun Gilmer Career Center traveled to Martinsburg WV, Friday March and Saturday March 30th and 31st to compete in the WV SKILLS USA competition.
This competition is geared toward those students pursuing a pathway in technical education. SKILLS USA is a national organization with chapters in all fifty states plus several American territories including; Puerto Rico, Guam, and American Samoa.
First place winners at the state level travel to Kansas City Missouri to compete in a National competition, winners from National competition travel to London England for the World competition.
This year four Calhoun Gilmer Career Center students placed during the state competition: April Frymier of Calhoun County, Amanda Jenkins and Jamie Conrad of Gilmer County placed second bringing home silver medals in the Crime Scene Investigation Competition. Calhoun student Devin Toppings placed third in the Criminal Justice competition bringing home a bronze medal for a total of four medalists returning to the Career Center.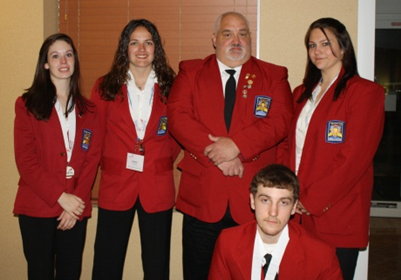 Criminal Justice Students (L-R) April Frymier, Jamie
Conrad, Michael Jackson, Amanda Jenkins, Devin Toppings
These students worked hard and voluntarily attended Saturday training at the Career Center to better prepare them for the state competition. Other students competing from the Calhoun Gilmer Career Center included; Bree Wolfe (state officer candidate), Thomas Smith (plumbing), Jerry Stalnaker (Computer Maintenance Repair), Richard Thurmer (Automotive Service Technology), John Bixman (Computer Maintenance Repair post grad), Lester King (Carpentry), Cameron Litviak (Welding), Phillip Norman (Masonry), Marayah Marks (prepared speech), Courtney Goodrich (Job Skills Demonstration A).
The entire staff of the Calhoun Gilmer Career Center is very proud of the effort and skill displayed by all competitors. Clarissa Price also attended the competition as the designated voting delegate for the Calhoun Gilmer Career Center. Instructor Mike Jackson wishes to thank Sgt. Joseph Garrett of the Grantsville Police Department for his assistance in the Criminal Justice competition training.