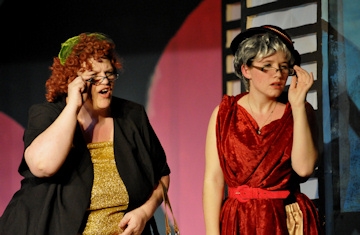 Lois Miller, left, and Rose Johnson portray two
older college students confronting an unusual
museum exhibit as part of their women's studies class
Story and Photos by Drew Moody
The play opens with two "supreme beings" discussing how life will be arranged on earth. After creating butterflies, and concluding 'love is love' no matter the sex or grouping, they decide women should bear children. As a consolation, or curse, they grant men huge egos.
The five-woman cast handle the various roles magnificently, including sometimes taking the male role in the scenes.
The play has been called "a decidedly wicked and hilarious look at men, women and modern America."
Roles, stereotypes, religion, relationships and life in general moves through a series of scenes starting off with a ditzy blonde and her beau eating at a Denny's Restaurant.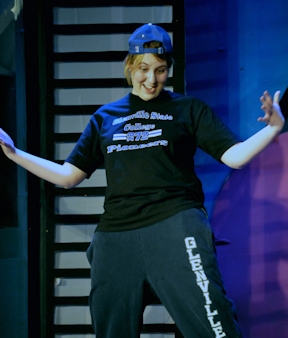 Ryan Konarske gets ready to have an athletic
bonding moment with a fellow teammate
The actors have mastered their parts to such a degree you really don't want the short vignettes to end.
In another scene two young teens cry watching a movie then begin discussing their love life, sex, loyalty and forgiveness.
After a comical silent demonstration of what it means for a woman to get ready to meet the day from showering to applying make-up, you continue on an outing with two older women taking a "women studies" class at their local university.
The absolutely non-traditional students show up at a museum initially debating over what particular female body-part one exhibit reminds them of.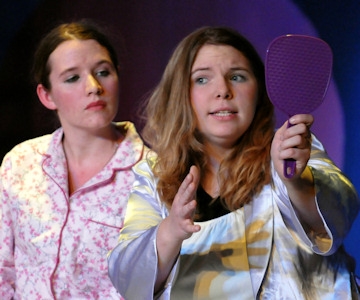 Samantha Wolford studies her hair in a mirror
while Rose Johnson looks on in a skit about two
teenage girls discussing love, sex and loyalty
The play is a 'no holds barred' romp through humanity seen through the eyes of the creators of "The Kathy and Mo Show," Mo Gaffney and Kathy Najimy.
"Parallel Lives" is directed by Dennis Wemm, who's brilliantly simple set design was inspired by a bare stand-up comedy club stage.
Featured players are: Brittany Ferguson, Rose Johnson, Ryan Konarske, Lois Miller and Samantha Wolford.
"Parallel Lives" can be seen Friday evening at the Glenville State College administration building auditorium beginning at 7 p.m.
The playbill specifically warns against bringing young children. There are many references to various body parts and swearing. Be advised, then be prepared to laugh...and laugh a lot.