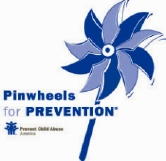 They are popping up all over our community! They are spinning in the winds of change blowing nationwide this April during Child Abuse Prevention Month. What are they? Pinwheels. Nearly half a million pinwheels have been distributed nationwide by Prevent Child Abuse America and the Calhoun County Family Resource Network will display them around Grantsville.

The "Pinwheels of Prevention" movement is based on the belief that we must stop child abuse from happening by providing programs and policies that focus on child development, engage communities and create conditions that provide for support for parents. These programs and policies include strategies such as In-Home Family Education, mutual self-help support, mental health services and substance abuse treatment.

Child Abuse America has adopted the pinwheel as the symbol of prevention and has changed it messaging to focus on developing strong families and communities. Our local Family Resource Network plans to steer clear from talking about child abuse deaths and plans instead to paint a positive picture of what supportive families and communities look like.

The Calhoun County Family Resource Network is calling for everyone to join the movement to change our priorities and choices toward developing communities that are healthy, safe and nurturing for all children and all families. Jean Simers adds, "It truly takes a village to keep children free from abuse and neglect. Everyone has a role to play in keeping children safe."

It is very important that every member of our community consider what they can do to improve our collective well-being. Whether it is volunteering, making donations, or advocating for family-friendly policies, everyone can take their turn in making changes.

Here are some ways to show children that you care:

Notice them; Ask them about themselves; Cheer their accomplishments; Introduce them to new experiences; Expect their best, don't expect perfection; Praise them for doing something right; Laugh at their jokes; Create a safe environment; Make decisions together; Build something together; Inspire their productivity; Invite them over for juice; Listen to their favorite music with them; Love them…no matter what

It's your turn to make a difference. For more information, please feel free to contact the Calhoun County Family Resource Network office at (304)354-7177. Please remember…"It Shouldn't Hurt To Be A Child"