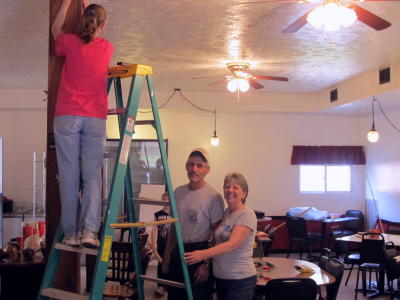 Lisa Cooper and Dennis Norman (right) have put in
hundreds of hours so far, readying the restaurant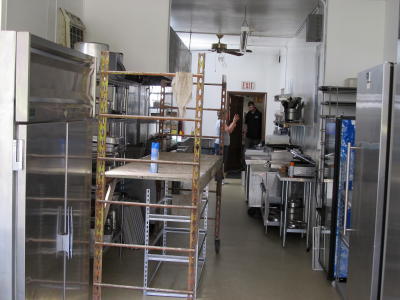 And all that new stainless steel in the kitchen
The re-establishment of a sit-down restaurant in Grantsville is big news for residents. Mom's Place Too will open today.
Since the 1800s there has been an assortment of eateries in the county seat, but with the changing economy of small towns, it was disappointing that the last such restaurant closed last year.(with the exception's of Gino's Pizza).
Partners Lisa Cooper of Elizabeth and Dennis Norman of Grantsville expect to have "Mom's Place Too" in the former location of the Koffee Kup.
Weeks of work has gone into installing new equipment and updating the business.
Cooper has long been associated with Mom's Place in Elizabeth, an establishment with a 22 year history and a reputation that represents what a home-town eatery should be about.
"A lot of people get lonely if they live alone, and now they will have a place to go for a cup of coffee, or some soup or pie that is affordable to them," said Cooper.
In addition to a full-service menu, the restaurant will also be doing catering and opening a banquet room for meetings, reunions and parties.
The eatery will have 16 positions for employment. "We will be hiring a staff of Calhoun's finest cooks and servers," she said.
Cooper, a Calhoun native and graduate of Calhoun High said, "My life has come full-circle with this endeavor," saying the restaurant will be offering many different opportunities and services to help the community.
"This endeavor, for us, is more than just a business that will have good food and good service," she said.
"It will be a place for socializing, where old friends, farmers, families, workers and politicians can talk and figure out day by day problems," she said.
"I look forward to serving our older generation because they have so much to offer," she concluded.