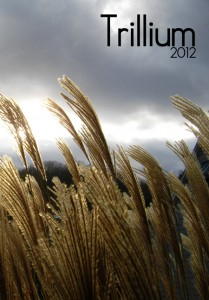 The 2012 cover of the Trillium, GSC's literary and arts
journal, designed by GSC senior Psychology/Sociology major
Sara Wise from Sand Fork, Gilmer County, West Virginia
Glenville, WV - The 9th annual Glenville State College Trillium Reading is scheduled for Tuesday, April 24th at 4:00 p.m. in the Mollohan Campus Community Center Room 315. The Trillium is a literary and arts journal that contains artwork, poetry, and prose created by GSC students, faculty, staff, and community members.
"This is a great opportunity for the authors and artists featured in the Trillium to bring their works to life in front of an audience. I was thrilled with the amount of submissions we received this year and the quality of the work. I invite all to attend this event," said GSC Trillium Editor Rose Johnson.
Free copies of the 2012 Trillium will be available at the reading as well as in the Mollohan Campus Community Center, the Robert F. Kidd Library, the GSC Department of English in the Heflin Administration Building, and other locations on the campus. For more information about the Trillium reading, contact the faculty advisor Dr. Jonathan Minton at jonathan.minton@glenville.edu or (304)462-6322.