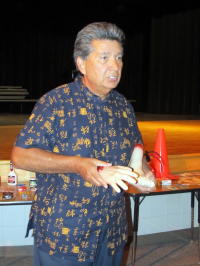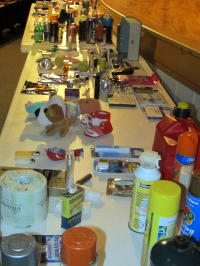 Dr. Terry Smith educates on ordinary products used
for chemical abuse, displaying hundreds items
Dr. Terry Smith gave a seminar at Calhoun Middle-High School Saturday on "soft drugs" or ordinary products that young people have abused.
He also addressed the appeal of firearms to the youth population. Weapons are covered because they can be used to get an "emotional high."
It was a chance to peek inside the minds of young adults and raise awareness about common household items currently being abused. Unfortunately, few attended the seminar.
Smith said these so-called "soft" drugs are substances that are legal which children and teens try out for their mind altering properties.
Spurred on by curiosity or false information from peers (or the Internet), teens and younger children may take prescription or over the counter medications, he said.
"Why they think that a blood pressure pill will deliver a good 'high' is anyone's guess, but if the idea is simply to feel different than normal, almost any chemical will work."
The workshop was sponsored by the Calhoun County Substance Abuse Coalition.