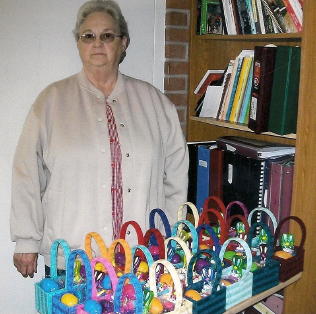 Kathy Burrows displays Easter baskets she made
for residents of the Solana Alzheimer's Care Unit
Last Easter, Kathy Burrows of Pleasant Hill while visiting her mother-in-law, 94 year old Leone Burrows in the Solana Alzheimer's Care Unit at Marietta Care and Rehabilitation Center, realizing the residents did not receive an Easter basket.
Kathy decided then she would make each patient a basket for Easter 2012.
She began making 30 plastic canvas baskets and delivered them to the unit. The staff helped fill the baskets with goodies not exceeding the individual diet restrictions.
The staff was very appreciative that someone outside the facility took an interest in the residents.
Kathy's husband, Willard says "Thank you Kathy for thinking of my mother as well as the rest of the residents in the Alzheimer's Care Unit."