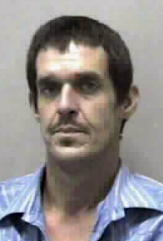 Gilmer County authorities have arrested Mark Aaron Ward, 37, of Sand Fork, on multiple charges. He is incarcerated in Central Regional Jail, being held on $150,000 bond.

He has been charged with three counts of possession of a controlled substance, operating or attempting to operate a clandestine drug lab, and a count of child neglect.

In August, 2011, Ward was arrested following an investigation of his residence, after which State Police seized a meth lab, according to a criminal complaint.

The compliant also said, during the investigation, Jason Mandell Pritt, 29, also of Sand Fork, had attempted to purchase pseudoephedrine for the lab.

Pritt confessed to assisting Ward with the operation of the lab, admitting to police he had purchased pseudoephedrine at least three times.

"Jason Pritt stated that Mark Ward was teaching him how to cook meth," and assisted him about twice a month, said the complaint.