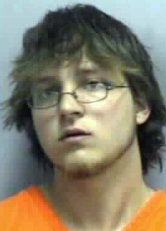 A Harrisville man was arrested Friday morning on drug charges and is being held in North Central Regional Jail.

Sundance Trevena was arrested at his home Friday by the Harrisville Police Department.

Trevena has been charged with contributing to delinquency of a minor, delivery of a controlled substance and possession of marijuana.

He is being held on $20,000 bond.

Authorities say the case is still under investigation and other individuals may be charged.

West Virginia State Police have arrested Ritchie County residents Steven Lusk Jr. and Connie Byrd, charging them with two counts of operating or attempting to operate a clandestine drug lab.

Lusk and Byrd are in the North Central Regional Jail with bail set at $50,000.