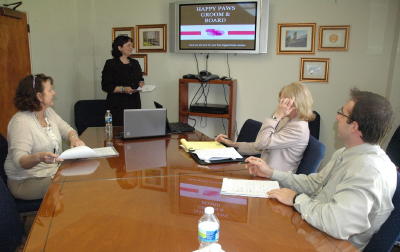 GSC junior Melissa Campos (standing) practices presenting her business plan to Associate Dean and Interim Director of the Entrepreneurship Center at the College of Business and Economics at WVU Nancy McIntyre, GSC Associate Professor Cinda Echard, and Small Business Development Center Small Business Coach Rob Hinton
Glenville WV - Glenville State College junior Melissa Campos of Arnoldsburg in Calhoun County West Virginia, has been hard at work preparing for the finals of the 2012 West Virginia Statewide Colligate Business Plan Competition (WVSCBPC) sponsored by the West Virginia University Entrepreneurship Center.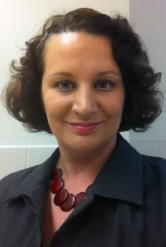 Campos (left) was chosen as one of ten finalists who were selected from one-hundred and eighteen business plans that were entered in this year's contest.
Her business plan for 'Happy Paws Board and Grooming,' which would include services for pet owners such as agility training, behavior modification, obedience training, grooming, and mobile grooming, is one of five finalists in the WVSCBPC Lifestyles and Innovation category.
Five finalists have also been chosen for the Hospitality and Tourism category. The winners in each category will be awarded $10,000 to help start their business venture as well as accounting, legal, and office space assistance.
"The entire experience of being in the business plan competition has been enlightening. I have learned so much about what it takes to create and run a business. There are no words to describe the excellent advice that I have received from everyone who has been involved," said Campos.
Since being named a finalist, Campos has attended a two-day workshop in Morgantown, West Virginia with financial, legal, marketing, and communication professionals who helped the finalist learn more about the process of starting a business.
GSC Small Business Development Center Business Coach Rob Hinton was appointed as Campos' business coach to help her prepare for the finals. "I feel that Melissa has done a great job with her business plan.
It has been a pleasure helping her through the process of fine-tuning her presentation. She is very passionate about her ideas, and I am certain that she will make her business venture a success regardless of whether she wins the contest or not," said Hinton.
Nancy H. McIntyre, Associate Dean and Interim Director of the WVU Entrepreneurship Center, also visited the GSC campus in March to help Campos prepare for the finals.
The WVSCBPC finals will take place at West Virginia University Alumni Center on Friday and Saturday, April 13-14, 2012.
Campos becomes the sixth GSC student to be selected as a WVSCBPC finalist. She is hoping to be the first WVSCBPC winner for GSC.
For more information on the West Virginia Statewide Collegiate Business Plan Competition, visit the Entrepreneurship Center website at http://www.be.wvu.edu/bpc or contact Director Mindy Walls at mfwalls@mail.wvu.edu or via phone at (304) 293-7861.