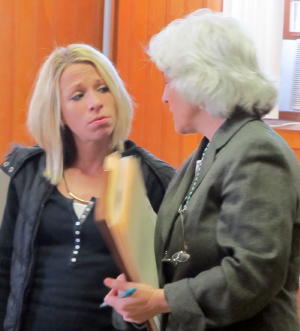 A trial for Tiffany Davis (above left) shown with
her attorney Betty Gregory, has been re-scheduled
to August 7, related to problems over discovery
Four criminal cases, according to the docket, were set to go to trial Tuesday in Calhoun Circuit Court before Judge Thomas Evans III, but none of them went to trial with 27 jurors dismissed.
Two of the cases were continued because of presentment problems, and two other cases had been dismissed for reasons not defined during the hearing, but could be refiled later.
The case against Charles Ray Metz, 32, of Big Bend, was continued to June 5, related to a State Police witness breaking down in his vehicle, although the officer did arrive a short time later.
Metz's attorney Ira Haught requested the continuance, with Prosecutor Rocky Holmes agreeing and Judge Evans approving.
Metz is facing charges related to wanton endangerment involving a firearm (one count), conspiracy to commit a felony (one count) and destruction of property (one count).
The charges are related to a 2010 incident on Nobe Road that allegedly involved the throwing of an inactive hand grenade, gunfire, and the subsequent arson of a house.
See related story METZ ARRESTED FOLLOWING SHOOTING-GRENADE INCIDENT
A case against Tiffany R. Davis, 23, of Grantsville, a count of operating or attempting to operate a clandestine drug laboratory, was continued to August 7.
Davis's attorney Betty Gregory told the court she had not received all the information from Prosecutor Rocky Holmes, related to discovery.
The cases against Tommy Brian Estep, 34, of Looneyville, possession of firearm by a felon (one count) and Alfred Gene Starcher, Jr., 26, of Minnora, two counts, burglary; one count, conspiracy to commit a felony; one count, destruction of property; one count, petit larceny, has been dismissed related to undefined problems, but could be brought back later.