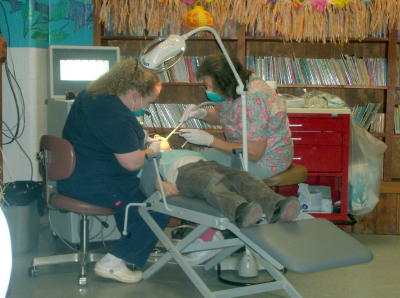 Hygienist Amber Knapp and Assistant Toni
Cottrell add sealant to a student's teeth
"I need a good smile, I have 20 girlfriends" was the sentiments of one happy student at Arnoldsburg Elementary School. During the week of March 12 Minnie Hamilton Health System-Dental Clinic partnered with Arnoldsburg Elementary School to provide free dental screenings, cleanings and sealants.
The program began behind the initiative of Dr. Lynn Gilbert and Dental Hygienist Amber Knapp. Two years ago, the program started through funding provided by the ARC/Benedum Foundation and Marshall University. In the first year of the program there were 20 students seen at the school. Minnie Hamilton Health System has since continued the program through the school based health clinic. This year, there were 60 encounters. The average age per student was seven years old.
In the four days of the Luau themed program, staff provided 54 examinations, 33 x-rays, 50 cleanings, 50 fluoride treatments, and 22 students had sealants. However, multiple sealants were placed on most students so 72 sealants were actually placed. The staff identified 132 cavities. An additional service day had to be scheduled to meet all the needs.
Minnie Hamilton Health System-Dental Clinic would like to thank the parents and staff at Arnoldsburg Elementary School for participating in the program.