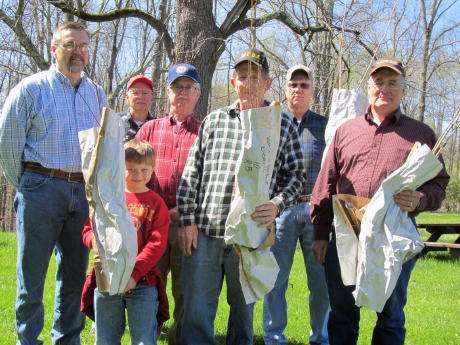 A few of the beekeeping group helping to
plant trees at Calhoun County Park Saturday
Twenty-four members of the West Central Beekeepers Association gathered at the Calhoun County Park on Saturday to plant 56 trees throughout the park as a public service.
The trees planted include red oak, river birch, red maple, flowering dogwood, and black cherry.
Those who volunteered their time were, Dale and Janet Cunningham; Bill Jarvis; Leslie Hutcheson; Diane Dean; Larry and Marianne Siers; Dave and Brenda Tatterson; Scottie and Margaret Rush; Scottie Kevin Rush; Brian Rush; Melinda Lee; Donald Pye; Al Parsons; Ben Carr; Lowell Rollyson; Cindy Carper; Charles Thomas and Brian; Bernard and Patty Wyatt; Vernon and Judy Kerns.
Special thanks to Roger Jarvis and Jim Bell for meeting with the group and guidance in planting site location.
Thanks also to Maricia Mylnek, Terri Harris, Bob Bonar, Ray Lahaie, Shirley Ball, and Erin Barnhart for supporting and preliminary planning.