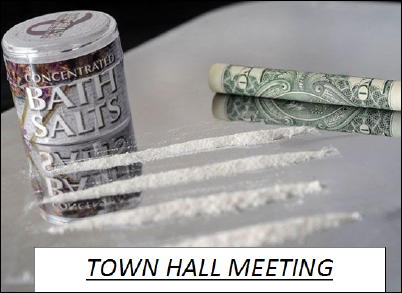 Next Generation Drugs - New Trends, New Treatments New Problems Bath Salts, K-2, SPICE, Kush Kakes, Meow-Meow, Molly's Plant Food, Cheese, do you know what these new synthetic drugs look like, how they are made and what impact they have on the user?
The Calhoun County Family Resource Network is today from 5:30-7:00 p.m. at the Calhoun Committee on Aging, Senior Center in Grantsville with presenter Timothy White to discuss and train participants in these issues.
A ham dinner and door prizes are included in the free event.
For more information concerning the meeting contact the Calhoun County Family Resource Network office at 304-354-7177.
This training will help the participant:
* Increase awareness about the impact of synthetic drug use/abuse in WV
* Recognize signs and symptoms and appeal of synthetic drug use
* Identify the drug and packaging as well as the dangers of use/abuse
* Increase knowledge of local resources for treatment
*Identify new drugs that are up and coming favorites
* Identify modifications of older drugs that are ever changing
* Discuss how to treat patients that have overdosed
* Discuss how some states are attempting to regulate the use of synthetic drugs
Discuss how the newer drugs are harder to treat due to lack of knowledge and research of the drugs.
This training is provided by Tim White, Region 2 Prevention Coordinator with Prestera Center and Veronica A Neale Flight Paramedic with Healthnet Aeromedical.