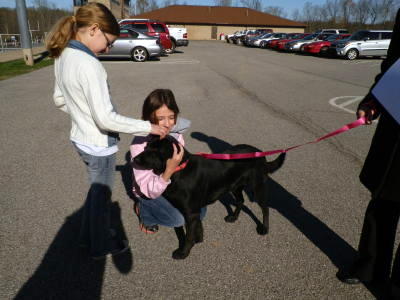 Echo Richards (L) and Destiny Wager with 'Spirit'
Submitted by Amanda L. Morris
Gifted Teacher/Diagnostician
Calhoun County Schools
"Lend a Paw, Even You Can Make a Difference," that is the motto that 5th grade student Destiny Wager and 6th grade student Echo Richards, came up with to use during their recent community project that they completed while in their Gifted class at CCMHS.
The girls had to agree upon an area of need in our county. They decided that it was to help the stray dogs and cats. The girls made donation boxes, money donation jars, a powerpoint and fliers to help spread the word about items they were collecting in order to donate to local dogs and cats in need.
Items and money were collected throughout the month of March at CCMHS. A big thank you goes out to the teachers and students who helped by bringing in any of the animal items or donating even some spare change.
The girls chose to donate the items to our local, Calhoun Animal Rescue. Erin Springston, of Calhoun Animal Rescue, came to CCMHS and met the girls in the parking lot. She even brought along a special guest, Spirit, one of the current foster dogs.
Destiny and Echo stroked, snuggled and played with Spirit while they talked with Erin about what inspired her to start the rescue. Erin also brought along a list of facts to share with the girls about U.S. Animal Shelters. "I hope it was a great learning experience for the girls about how we all can make a difference. I know that Spirit was very grateful, especially for the doggy treats that were donated," said Springston.