Glenville, WV - Employees at the Robert F. Kidd Library at Glenville State College are hosting a culinary demonstration on Wednesday, April 4th from 5:00 p.m. to 6:30 p.m. with Chef Hans Friedmann.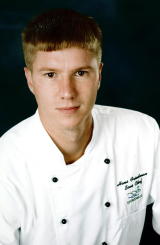 Friedmann (left)is currently employed at the Crazy Mountain Ranch near Clyde Park, Montana. The Lewis County High School graduate previously worked at the Stonewall Resort in Roanoke, West Virginia. He was an Award winner at the 2007 and 2008 'Cast Iron Cook-Off ' held at the Stonewall Resort. Friedmann is in the process of starting his own private chef service for corporate and private events. He is the son of GSC Robert F. Kidd Library Associate Jane Friedmann.
Chef Friedmann will be demonstrating knife skills used in food preparation and presentation, fish filleting techniques, and he will prepare a soup using some local ingredients such as ramps and morel mushrooms. He will also discuss tips and tricks of the trade, foraging, soups, stocks, bases. There will be a tasting and question and answer period after the demonstration.
The presentation will take place in the café area of the main lobby of the library. All GSC students, faculty, staff and the general public are cordially invited to attend this free event.
For more information contact the GSC Robert F. Kidd Library at (304)462-4109.