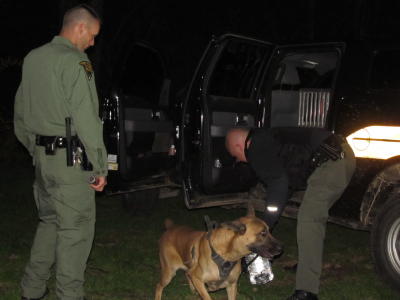 Roane deputy uses his police dog in search of suspects who
likely torched house belonging to couple charged with murder
WV Fire Marshal Jason Baltic examined a mobile home suspiciously destroyed by fire this week, seeking to decide the cause of the blaze, according to Fire Chief Derek Wright of the Arnoldsburg Volunteer Fire Department.
Wright said the investigator spent about three hours at the scene on Sinking Springs.
When firemen arrived on the scene Monday, one or more subjects on a wooded hillside continued to chant, "Burn! Burn! Burn!," but when State Police arrived and entered the woods, the chanting stopped.
The mobile home belonged to Ordie Rogers, 30, and his significant other, Ashley Kreh, 21, recently indicted for the murder of their two month old child.
State Police from the Grantsville Detachment and the Calhoun Sheriffs Department combed the wooded hillsides above Sinking Springs following the Monday night fire.
Roane County deputy sheriff Mike King brought his police dog, aiding in the search, which was later discontinued for the night.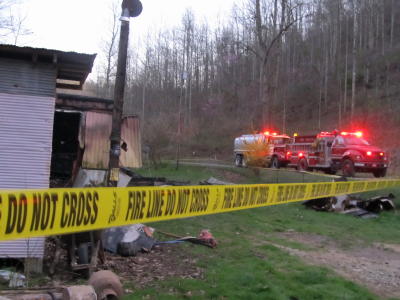 Fire line erected around arson scene, with fire marshal notified
See HOME OF CALHOUN MURDER SUSPECTS LIKELY TORCHED - Subjects Yell 'Burn! Burn! Burn' As Firemen Fight Blaze