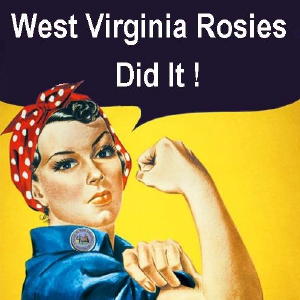 Glenville, WV - Several real-life 'Rosie the Riveters' will be on the Glenville State College campus on Wednesday, April 4th at 1:00 p.m. in the GSC Fine Arts Center Auditorium. They will be telling stories and answering questions about their experiences as 'Rosies.'
'Rosie the Riveter' is an American icon that represents the women who, during World War II, went to work in factories while eligible men went to war. Their mantra, 'we can do it,' has crossed many generations signifying the power and ability of women.
"All are invited to this wonderful event. Many veterans will be present and able to meet the women who supported them from home while they served our country," said GSC Veterans Affairs Coordinator Jennifer Wenner.
'We Pull Together: Rosie the Riveter Then and Now,' a documentary by B. J. Gudmundsson, is being shown at the event. This documentary is part of the West Virginia Rosie the Riveter Project. This program began in 2009 to find the real 'Rosies' and share their stories. Since inception, the program has captured stories through text, photo, audio, and video from more than seventy West Virginia women that worked on the home front building equipment for the Armed Forces along with other factory jobs.
This project is sponsored by Thanks! Plain and Simple. The West Virginia non-profit organization's mission is to unify the people of West Virginia around the well-being of soldiers and veterans, and to guide veterans to contribute at home. The organization is still searching for original 'Rosies' to share their stories, visit thanksplainandsimple.com
While on the GSC campus, the 'Rosies' will be interviewed by the West Virginia Veterans Legacy Project Director Bob Henry Baber. The program through the GSC Robert F. Kidd Library will include an oral history collection of recollections, memories, and stories of local men and women who have served in the U.S. military.
For more information about the 'Rosies' visit to GSC and the film, contact Wenner at Jennifer.Wenner@glenville.edu or (304)462-6056.