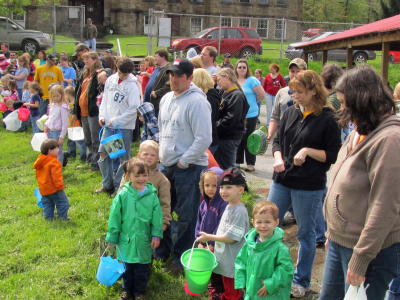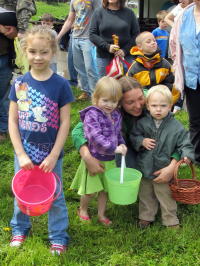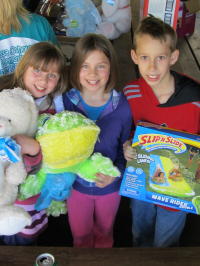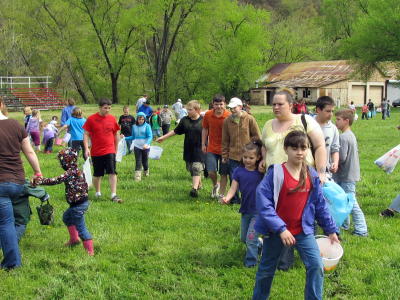 Scenes from 2011 Annual Easter Egg Hunt
The Melissa Oshoway Memorial Easter Egg Hunt will be today at noon at Wayne Underwood Field in Grantsville.
This is the 18th annual Easter egg hunt for children ages 0-12 years old. The event is sponsored each year by John and Sue Oshoway in honor of their daughter "Missy" who was in a car accident on Christmas Eve 2004 and passed away on January 5, 2005.
There are over 1,000 eggs for the younger children and over 1,000 eggs for the older children.
Louisa Chapel Church will be selling concessions and all proceeds from that sale will go to Louisa Chapel Church building fund.
Just like last year, 2,000 of the hidden eggs will have either 2 small toys or 2 pieces of candy inside the egg.
If your egg has a toy or candy inside, you will not need to stand in line and wait for your prize. There will be several eggs in addition to these 2000 filled eggs with a piece of paper inside the egg, this paper will list the prize that you have won.
You will need to give that slip of paper to one of the volunteers to receive that prize which will include 12 bicycles, Starter Learning Boards, money, stuffed animals, and lots and lots of other nice prizes.
This event is not just for Calhoun County residents, any child is welcome to participate. If you would like to make a donation for this event, contact John or Sue Oshoway at 304-354-9204 or 304-655-9931 or send to P.O. Box 156 Grantsville, WV 26147.