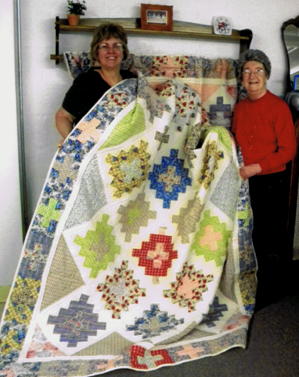 Patty Cain (left) and Dorothy Dye
with the feed sack quilt "It Will Do"
The Mid-Ohio Valley Heritage Quilt Show will be hosting its 8th annual show at the Blennerhassett Museum in downtown Parkersburg this week. The show usually exhibits over 200 quilts and will have entries from area quilters.
Patty Cain, of Big Springs, WV will have her feed sack quilt, "It Will Do", on display. The quilt was pieced from a large selection of feed sacks. The "sacks" purchased during antique shopping trips with her husband Bob and some donated sacks from her Aunt Loretta Scott, was pieced in the pattern block called Christian Cross or Chimney Sweep.
Dorothy Dye, Patty's great aunt, quilted and named the quilt. "It Will Do" was in reference to making do with some scraps that was placed on the back of the quilt by Dorothy as she quilted the quilt. Dorothy is a lifelong quilter and is well known for her hand quilting. She volunteers many hours a month at the Committee on Aging hand quilting for fundraising projects.
Patty, who made her first quilt in 1975, has taught classes in hand piecing and log cabin quilt piecing. She loves to make quilts for her family and friends and was commissioned to make a quilt for a woman in Florida this past year. She is a member of the National Quilters Association, WV Quilters Inc. and a member of the Unbreakable Threads Quilting Group that meets the first Saturday of every month at the Five Forks Community Building.
If you are interested in visiting the display of quilts and various textile projects at the Blennerhassett Museum, located at 137 Juliana St., Parkersburg, WV it will be open March 24th-April 1st. Information on hours and admission fees may be obtained by calling the park office at (304)420-4800.