Each year, more than 950,000 adult Americans die from cardiovascular disease, making it the No. 1 cause of death in the United States. At least 250,000 Americans die of sudden cardiac arrest (SCA) before they reach a hospital.

SCA strikes people of all ages and all degrees of fitness. It usually strikes without warning. Many of these lives can be saved if bystanders quickly phone 911 and begin CPR, and if trained responders provide defibrillation within minutes.

By choosing to implement an AED (automated external defibrillator) program at your facility or site, you have made the commitment to saving lives and to improving the "Chain of Survival" in your workplace community.

Most often, SCA is caused by an abnormal heart rhythm called ventricular fibrillation (VF) that prevents the heart from pumping blood. The treatment for VF is defibrillation. Defibrillation is the delivery of an electric shock to the heart that stops VF and allows a normal heart rhythm to resume.

Defibrillation is the only effective therapy for ventricular fibrillation. For each minute that passes without CPR and defibrillation, the chance of survival decreases 7% to 10%.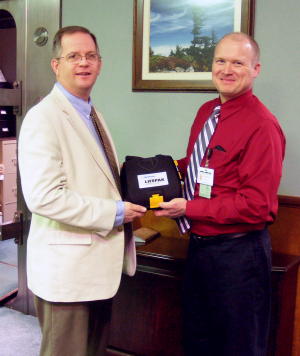 Minnie Hamilton Health System COO, Steve Whited (right) presents Calhoun Banks Vice President, Rick Fitzwater with an AED device.
This AED is located at the Main Street Branch in Grantsville with the goal to have an AED at the Arnoldsburg Branch in the near Future.
Providing defibrillation on-site with an AED increases survival rates for VF cardiac arrest. In places where AED programs provide immediate CPR and deliver the first shock within 3 minutes after collapse, reported survival rated from VF cardiac arrest are as high as 74%. Currently only about 5% of all sudden cardiac arrest victims survive in places where no AED programs have been established to provide prompt CPR and defibrillation.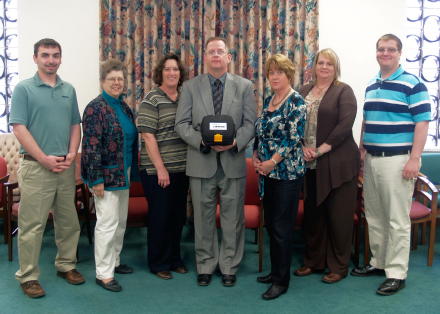 Training on AED Equipment were (left-right) Zeb
Ritchie, Sandy Marshall, Brenda Wolfe, Rick Fitzwater,
Sharon Laughlin, Pam Godfrey and Andrew Smith.