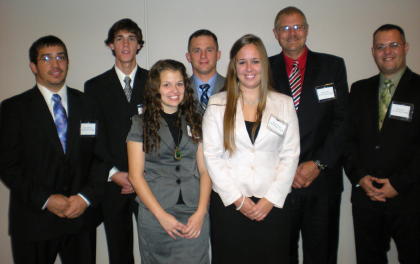 GSC accounting students attended the WVSCPA Recruiting
Fair in Charleston. Pictured left to right: Josh Ramsey,
Justin Brown, Kayla Miller-Roop of Mt. Zion, Robert Woods,
Racheal Fetty, Brian Griffith, and Dan Nary
Glenville, WV - The current academic year has been a busy one for several accounting majors at Glenville State College. Working closely with the faculty of the GSC Department of Business, these students have been involved in a number of activities designed to benefit their opportunities for employment following graduation.
GSC Associate Professor of Business Cheryl McKinney and Visiting Instructor of Accounting Becky Swisher accompanied eight junior and senior accounting majors who attended the West Virginia Society of Certified Public Accountants (WVSCPA) Central Chapter Student Night held in 2011 at Morgantown, West Virginia.
Students were invited to mingle with accounting practitioners in a professional environment. The program included a panel of distinguished CPAs who shared experiences and insights. The GSC Department of Business also organized a pre-event field trip to the accounting firm of Conley CPA Group, PLLC in Fairmont, West Virginia where GSC graduate, Dustin Freshour and several other senior members of the firm gave GSC students a tour of the office and made a presentation about public accounting and being a CPA.
The WVSCPA is the premier professional association for practicing public and private accountants in the state. The society has a class of membership for students. Many GSC students have joined to get a start on their professional networking and to stay current in the field. The organization sponsors several events annually, and GSC students are encouraged to take full advantage of them.
In 2009, Professor McKinney was recognized as the 'Outstanding Accounting Educator' by the WVSCPA. In 2010, she was elected to a three-year term on the Board of Directors of the WVSCPA and is the only educator serving on the board.
Seven senior and junior GSC accounting majors attended the annual WVSCPA Recruiting Fair held in Charleston, West Virginia in October. Prior to the event, these students met with Professor McKinney several times as a group and individually to work on resume preparation and interviewing techniques.
As a direct result of this event, two GSC senior accounting majors have received and accepted lucrative employment offers with prominent CPA firms in Charleston.
Kayla Miller-Roop of Mount Zion in Calhoun County, West Virginia has accepted a position with Arnett & Foster. "The 'spark' that Kayla possesses is tangible. Every employer at the recruiting fair wanted to interview her, and she received multiple job offers as a result before accepting the position with Arnett & Foster. In addition to her accounting expertise, Kayla has the ability to communicate in an effective and enthusiastic manner, and that combination is a valuable asset to any CPA firm," said McKinney.
"The GSC Accounting program has given me the foundation I need to succeed. Although we, as a class, are small in number, we compete with students from all major colleges and universities in West Virginia and the surrounding states. I am certain the knowledge and professionalism I have gained over the last four years will serve me well in the future. I thank professors McKinney and Swisher and the fellow accounting majors for preparing me for the journey ahead," stated Roop.
Justin Brown of Glenville in Gilmer County, West Virginia will be joining the firm of Suttle & Stalnaker. "Justin's recognition as the Outstanding Accounting Senior in the entire state of West Virginia is richly deserved. His work ethic and dedication have allowed him to blend academic excellence as a triple major (accounting, business management, marketing), co-curricular activities, work experience and civic engagement together in a unique way that is recognized and appreciated by accountancy professionals," added McKinney.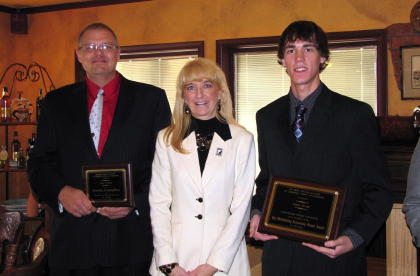 GSC seniors Brian Griffith (left) and Justin
Brown (right) joined Professor Cheryl McKinney
as they received their awards from the WVSCPA
Each year, the WVSCPA recognizes several 'Outstanding Accounting Seniors' across West Virginia through a very competitive process. In 2011, GSC's Justin Brown, was recognized by the society as 'The Outstanding Accounting Senior in West Virginia.' "Professors McKinney and Swisher are absolutely the best. They truly care about their students and want them to be successful in life. I am grateful for the honor and am thankful for the support of my fellow students and the faculty at GSC," said Brown.
GSC senior Brian Griffith of Glenville, West Virginia was also recognized as one of the statewide recipients. Brown and Griffith were publicly recognized by WVSCPA President, Ted Lopez, a member of the GSC Business Department Advisory Board, on November 4, 2011 with plaques and monetary awards at a Central Chapter meeting. They are featured on the front cover of the quarterly publication of the Society, The West Virginia CPA.
"Many of our accounting majors have taken advantage of the professional activities afforded by the West Virginia Society of Certified Public Accountants (WVSCPA), and have also joined the society as student members. I commend their interest in augmenting the rigorous accounting curriculum by engaging with practicing CPAs in networking opportunities. Glenville State College is proud of our future accounting professionals," said McKinney.
For more information about the Glenville State College Accounting major, contact McKinney at Cheryl.McKinney@glenville.edu or (304)462-6263.