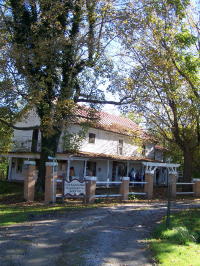 Winnie loved to give tours of famous river landmark in Elizabeth
Elizabeth's 'grand ole dame' Winifred Eleanor "Winnie" Murray has passed at age 93.
Winnie's family had deep roots in Wirt County history, including its famous riverside landmark the Little Kanawha Hotel.
She reveled in hosting open house at the hotel, welcoming folks to recall a piece of long-gone river life.
The Little Kanawha Hotel, which still needs to be restored and renovated as one of the regions most historical structures, represents river life of days gone by.
The three story log building was built in 1800 by Manlove Beauchamp for his cabin. In 1870 P. H. Dailey covered it with clapboard siding, divided it into rooms and remodeled it into a hotel and center of commerce for Wirt County.
From 1875-1883, the Kanawha Hotel was owned and operated by Mary Jane Bee, Winnie Murray's great grandmother. Mary Jane Bee was the wife of Josiah Bee, a Confederate Soldier that is buried in Beauchamp Cemetery.
Winnie said, "I love to tell the story of the Little Kanawha Hotel and how it was a divided house (union and confederate) that now stands proud.
She was known as a tireless advocate for the past and future of Elizabeth and Wirt County.
Her most recent public efforts have been in helping establish a nursing home in Wirt County. She was a supporter of a bill, now waiting on the signature of the governor, which would allow Wirt County to have such a facility.
She was a lifelong teacher which began in the historic New Era School, now located in Mineral Wells, she taught for 20 years in Tucson, Arizona.
Winnie was selected as an outstanding teacher while in Arizona. She was a Sunday School Superintendent at Dudley Avenue Baptist Church in Parkersburg and also Pueblo Gardens United Methodist Church in Tucson, Ariz. and she and her husband were charter members of the St. Marks United Methodist Church in Tucson with membership growing from 28 members to 2,400.
In the last week of her life she gave a piano lesson to Libby Cogar's granddaughter, Emmy. She was a faithful supporter of the Elizabeth United Methodist Church and the Elizabeth Church of the Nazarene.
She is preceded in death by her parents, Arther Hoyt and Flora Vaughn Hoyt; husband of 60 years, Robert Bruce Murray Jr.; sister, Emma Hardman, and brother, Rev. Claremont Hoyt.
She is survived by four daughters, Sandra Mace of Elizabeth, Heather Murray Elkins of Madison, N.J., Brucilla Campbell of Seattle, Wash., Tamara Murray of Honesdale, Pa.; six grandchildren, Murray Mace, Krista Simms, Daniel Elkins, Ian Laurelin, Laurel Creighton, and Rob-Roy Mace; and nine great-grandchildren.
A tribute to the life of Winifred "Winnie" Murray will be 2 p.m. Friday at Elizabeth United Methodist Church with Rev. Lee Williams and Pastor Ray Whiteman officiating. Musician for the service will be Kay Hill. Private committal to be held at a later date.
There will be an opportunity for friends to visit and pay their respects at The Little Kanawha Hotel on Murray Street today from 2-4 p.m.
The family requests memorials be made to The Hope Shop, Rt. 1, Box 118-N3, Elizabeth, W.Va. 26143 in care of Sister Cheryl.