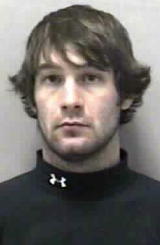 State Police have arrested Paul Richard Goodrich III, 24, of Grantsville for a second time on drug charges related to meth- making and is incarcerated in Central Regional Jail since Saturday.

Goodrich, one of Calhoun County High School's most accomplished and award winning athletes, was arrested on February 18 on charges of operating a clandestine meth lab, and had been released from Central Regional Jail on bond.

That case has been sent to Calhoun Circuit Court, where it will likely be presented for indictment.

According to the criminal complaint, Goodrich purchased meth-making ingredients on March 9 from Rite Aid and Dollar General Store in Grantsville, including pseudophedrine and instant ice compresses.

Cpl. J. E. Kincaid charged Goodrich with obtaining and possession of substances related to the manufacture of meth, and is facing a sentence of not less that two years nor more than ten years, a fine of not more than $25,000, or both, on the new charges.

Goodrich's father, former assistant football coach Paul Goodrich, Jr. will appear in Calhoun Magistrate Court this month on charges related to marijuana.