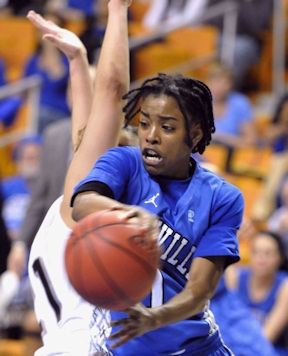 Danielle Woodmore passes around a
defender, after a baseline drive.
Story and Photos by Drew
Moody for The Hur Herald
With less than a second remaining, and the score tied at 94, two foul shots by Kenyell Goodson (10) iced GSC's victory over Concord Friday in the double- overtime semi-finals of the WVIAC Women's Basketball Tournament in Charleston.
The defending champion Lady Pioneers will face West Virginia Wesleyan for the title today at 3 p.m.
Concord had previously defeated the Lady Pioneers in both regular season games.
What made the difference Friday, putting Glenville State College's women within reach of back-to-back conference championships, was a greater effort at across-the-board teamwork often missing during regular season play.
Initially the game looked to be headed toward a very lop-sided GSC victory. In under three minutes the Lady Pioneers hit four 3-pointers on their way to securing a commanding lead of 16-5.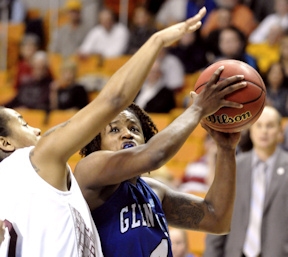 Last year's WVIAC Tournament MVP Tenisha
Wilson takes a jumper near the foul line.
They went on to tromp Concord for much of the first half leading by as much as 16 (41-25) with 5:39 remaining.
And then, as if suffering a short-circuit, for the remainder of the half Concord controlled the court closing out the half trailing by nine, 43-34, keeping the Lady Pioneers scoreless for the final 4:31.
The close of the first half left Glenville State College fans wondering if Concord's comeback was a bad omen.
As the second half began it became clear it was.
With just over 13 minutes remaining Concord tied the score at 55.
From that point on it was a dog fight with the Lady Pioneers trailing much of the time.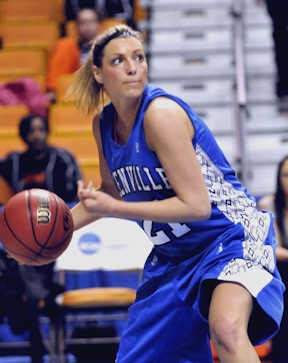 Hot 3-point shooter, Beth Deren, looks
for an outlet pass as she clears a rebound.
Two quick shots by Mishae Miles (30) tied the score at 61 with just over 9 minutes on the clock. A Danielle Woodmore (01) bucket, followed by a Beth Deren (21) 3-pointer, put GSC in the lead 66-65 with 5:44 remaining.
Concord answered with a scoring run and with 2:44 on the clock held a 7-point lead over GSC.
Two 3-pointers by Beth Deren (21), and one triple by Ginny Petties (32) tied the score at 76 with 1:13 left. The teams traded buckets matched at 78 sending the game into overtime.
The Lady Pioneers jumped out to a 5-point lead, 85-80, with 35 seconds left. Concord connected on a jumper and 3-pointer sending the game into double overtime with a score of 85 apiece.
GSC jumped into the lead, but was caught again by Concord tieing the game at 94 with under one second remaining when Kenyell Goodson was fouled. She connected on both free throws securing the Lady Pioneers victory 96-94.
Mishae Miles (30) led five of her teammates in double-figures with 21 points. Miles also notched a double-double grabbing 13 rebounds. Rounding out the GSC high scorers were Danielle Woodmore (01) with 19 points, Tenisha Wilson (04) with 18, hot triple threat Beth Deren (21) with 15, and Ginny Petties (32) with 11 points.
The Lady Pioneers committed 23 personal fouls during the game, accounting for 32 of Concord's points. While Concord's 3-point shooting weakness, compared to GSC's, hampered their efforts connecting on only 2 of 14 in the second half.
Concord's big center Jolysa Brouwn (44) led her team with 28 points and 22 rebounds.