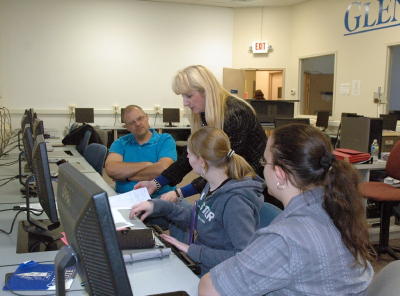 GSC Accounting seniors Brian Griffith and Stephanie Harper (right) assist GSC junior Jillian Robison (center) with her tax returns under the guidance of GSC Associate Professor of Business Cheryl McKinney.
Glenville, WV - The Department of Business at Glenville State College is once again offering free assistance for filing your basic federal and West Virginia income tax returns through a new IRS program called FAST (Free Assisted Self-service Tax preparation).
The GSC Department of Business partners with the Internal Revenue Service through the college's Accounting 399 course. GSC senior accounting majors, who are IRS certified, assist qualifying low to moderate income people (generally those making $57,000 or below) who need help preparing their basic Federal and West Virginia income tax returns. The FAST experience is the IRS' new 'self-service' option that is available to those with basic computer skills. Taxpayers will actually be preparing their own returns at a computer with assistance as needed from trained GSC accounting students. Once completed, federal and state returns may be electronically filed.
Taxpayers may choose either the TurboTax or TaxSlayer program based upon eligibility criteria. Once an account is created at our site, it may be accessed from anywhere if additional information is needed before filing. One distinguishing characteristic of FAST is that taxpayers may electronically file both federal and state returns at no charge. However, if you access one of the software programs directly without first going through the FAST site, there will be a charge for the state return.
Those who wish to receive this free tax assistance from the GSC FAST site should bring: a copy of their 2010 tax return, if available, wage and earning statements (Form W-2) from all employers, interest and dividend statements (Form 1099), any other relevant information or forms relating to income and expenses, social security cards for taxpayers and dependents, if available, and bank routing and account numbers for direct deposit/direct payment, if desired.
Also, students and anyone who received financial aid and/or paid tuition and fees must have a copy of the Tuition Statement (Form 1098-T) provide by the school before your tax return can be completed. Those who cannot locate that document must request a duplicate copy or find it on their EdNet account. Form 1098-T should be in hand upon arrival at the FAST site so assistance can be given in a timely manner.
The GSC FAST site is located in Room 309B of the Heflin Administration Building (the Ernie Smith Computer Lab). The FAST program allows for multiple taxpayers to be assisted. The FAST site is open on Tuesdays from 4:30 - 6:30 p.m. and Wednesdays from 3:00 - 5:00 p.m. through April 11th.
The Glenville State College Department of Business has been offering free tax return assistance to campus and community taxpayers for over sixteen years.
For more information about the GSC FAST program, contact Cheryl McKinney at (304)462-6263.