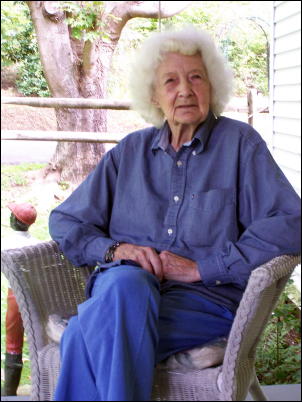 Dora Starcher, 93, a grand lady from Washington District, was discovered deceased Wednesday in her home on Mud Fork by personnel delivering meals from the Senior Center.
Funeral services have been set for 1 p.m. Sunday at the Stump Funeral Home in Arnoldsburg, where friends can call one hour prior the service.
She was an active member of the Calhoun community, having served on the Calhoun County Library Board for several years and belonged to a number of county groups, including the Red Hat Society.
Dora was proud of the Starcher Park she helped create on her property, and enjoyed attending the Calhoun High School alumni event every year, she graduated in 1937.
Complete obituary Dora E. Starcher
See also "I KNOW HOW MUD FORK GOT ITS' NAME" - Dora Starcher Recalls School Days, Indian Burial Grounds