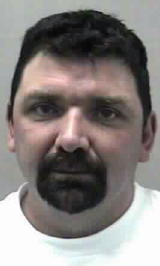 Former Grantsville resident Christopher Todd Smith, 40, was incarcerated in Central Regional Jail following a court appearance Wednesday before Judge Jack Alsop.

He is felony charged with retaliation against a public official, a 2010 charge brought against him after he allegedly removed cemetery memorials at Bethlehem Cemetery from the grave of the husband of former adult probation officer Patsy McCartney.

McCartney filed a complaint with the police, saying someone had been stealing "everything off her late husband Mike McCartney's grave at the Cemetery."

McCartney, in the complaint, said the flowers and shepherd hook from her husband's grave appeared to be ... missing from the cemetery.

State Police, according to the criminal complaint, discovered items from the grave in Smith's possession.

. Smith has a long history of arrests and convictions in Calhoun and the region.