Outreach Coordinators Sarah Harper (left) and Barb McKown
Representatives from Minnie Hamilton Health System traveled to the Capital Complex in Charleston on Thursday, February 9 to attend Hospital Day at the Legislature sponsored by the West Virginia Hospital Association.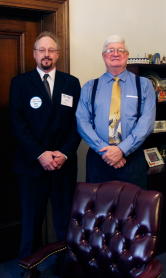 MHHS CEO Randy Lindauer (L)
and Senator Larry Edgell
Minnie Hamilton offered a display highlighting their innovative services including the new sleep apnea home testing and digital mammography. Free glucose screenings were provided.
While at the Capital, the representatives had the opportunity to meet with their local representatives including Delegates David Walker and Brent Boggs; and Senators Jeff Kessler and Larry Edgell.
Issues that were highlighted include Medicaid funding and provider payments, shortage of healthcare workforce and protecting and preserving medical liability reform.
Attending Hospital Day from Minnie Hamilton were CEO Randy Lindauer, Outreach Coordinators Barb McKown, Sarah Harper, Public Relations Coordinator Jim Sullivan and Lab Technicians Sherry Gunn and Matt Kirby.