Gilmer County Prosecutor Gerald Hough has asked the West Virginia State Police Professional Standards Division to investigate alleged excessive force on a 75-year old hearing-impaired man by law enforcement, when they went to his rural residence on Dry Fork Road on January 30.

State Trooper F.L. Raynor and Deputy Sheriff Benton Huffman were looking for another person related to what was described as a "welfare check," that person was not on the property.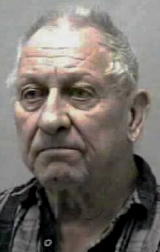 Family members said Donald Eugene Singleton (right) was sitting in his garage when he engaged in a verbal altercation with the officers.
According to a criminal complaint, Singleton then struck Deputy Huffman on the arm over a citation he had written about one year before.
That's when Singleton was arrested for battery on an officer and taken to Central Regional Jail, says the complaint.
Singleton's family claims he received severe multiple injures to his head, arms and legs and was taken to Stonewall Jackson Hospital from jail to Weston and then to Ruby Memorial Hospital in Morgantown, where he was admitted to Intensive Care.
They say he suffered "blood on the brain," and was in critical condition after the incident.
The police's criminal complaint says, "While enroute to the Central Regional Jail, Mr. Singleton advised that the hand-cuffs were hurting his hands, and (officer) pulled over to check the handcuffs and noticed they had slid down his wrist and he had abrasions on both his hands from the handcuffs."
The officer then states, "I retrieved some gauze from my first aid kit and got the bleeding stopped, then continued to Central Regional Jail."
Prosecutor Hough, in calling for the special investigation, states, "Accusations against police officers are serious matters; their conduct is often under close scrutiny. We take this extra measure to insure that citizens' rights are protected and the public is well served."