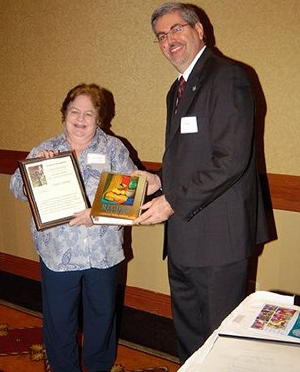 Diane Ludwig of the Little Kanawha Area Community
Foundation affiliate Board receives a certificate from
Fred Rader, Board Chair honoring her commitment to training
"We're not 'waiting on the world to change' here, we're shifting into fast-forward and leading with our hearts," Judy Sjostedt told the 200 people who attended last Friday's Annual Meeting of Our Community's Foundation—the Parkersburg Area Community Foundation (PACF) and Regional Affiliates of Doddridge, Jackson, Little Kanawha Area, Mason and Ritchie Counties.
As the Foundation launched its 49th year, Foundation Executive Director Sjostedt announced a new initiative called the "Foundation Civic Leaders Fellowship." Through development of the Foundation's strategic plan, it was identified that local citizens were greatly concerned about making progress in three key areas—employment (unemployment), economic development and education. Interestingly, Sjostedt noted, the concern about education was not that area educational institutions failed to graduate students, but rather that local communities were unable to retain their educated graduates due to the inability for new graduates to find jobs locally.
So, she said, as the Foundation set three main goals in its new plan - to inspire the growth of philanthropy; to engage the region's people in identifying needs and finding solutions together; and to deliver results that matter to local people. Sjostedt said, "We saw a very real need for a well-conceived program to support our young people; to create opportunities for them. The Foundation decided this was an area in which our ability to bring knowledge of the issue combined with resources for a pilot program could make a very real impact. This new Fellowship Program is about making a direct investment in our next generation by employing about 15 talented young persons as Fellows this summer."
Through a competitive application process, the Foundation will identify a group of college-age students to benefit from an intensive summer program involving paid employment and development of civic leadership capacity and business and community knowledge. Program goals include: enhancing students' personal skills and ability to find meaningful employment upon graduation; offering area employers of all types a way to connect with students while they are still in college; and providing a collaborative way for employers, nonprofits and foundations to work together to build our region's future workforce.
Sjostedt said, "We're excited about this new initiative. From the student perspective, this is a wonderful opportunity for meaningful employment. From the nonprofit or business perspective, this is a no-cost opportunity to 'test drive' a potential employee while helping a young person to develop his/her civic leadership and employment capacity. Students must have successfully completed at least first semester of the freshman year before applying. We encourage students as well as organizations willing to host a summer Fellow to apply now. We also invite contributions to sponsor the program (tax-deductible to the extent permitted by law). Student and Host Applications and Guidelines are posted on the Foundation's website at www.pacfwv.com (under 'Find Grants,' then 'Applications and Forms.'). The application deadline is March 14, 2012."
Jim Strader, formerly with Simonton Windows, previously with Wood County Schools will direct the new program. An Advisory Committee of area citizens has been formed to oversee the new program and includes: Joyce Mather (United Way), Jill Parsons (Mid-Ohio Valley Chamber of Commerce), Bill Niday (Retired School Superintendent), Todd Ritchie (SDR Plastics in Ravenswood), Mayor Alan Haught (Harrisville), Dave Righter (First Neighborhood Bank), and Dr. Marie Gnage (WVU at Parkersburg). To learn more about the Foundation or this new program, Sjostedt welcomes inquiries at 304.428.4438 or by email to: info@pacfwv.com. Donations may be mailed to Civic Leaders Program, PACF, P O Box 1762, Parkersburg WV 26102-1762.
In the business portion of the Annual Meeting, PACF Board Chairman Fred Rader (also a Little Kanawha Advisory Board member) said the Foundation distributed a record high $1.8 million in grants and scholarships in 2011, while keeping its 2011 administrative costs as a percent of assets at 1.24%. In addition to announcing the new Civic Leaders Fellowship program, meeting highlights included:
* PACF and the Affiliates were recently re-accredited as a National Certified Community Foundation, meeting the Council on Foundations standards of excellence for community foundations.
* Judy Sjostedt was re-elected by her peers to a second term on the National Council on Foundations Community Foundations Leadership Team.
* PACF Board members Richard Hudson, Diane Balderson, and Jerry Villers were recognized as "retiring" with a total of 45 years service among them.
* Arlene Kuryla of the Jackson County affiliate received a special service commendation.
Three persons were welcomed as new PACF Board members for 5 year terms: John Tebay, Realtor®, of Parkersburg; Paul Hicks, an attorney with Bowles Rice, of Vienna; Marie Caltrider, CPA, of Williamstown.
The following professional advisors were nominated by the community and honored with appointments to the Foundation Advisors Circle for their work to build philanthropy: Robert Astorg, CPA, of Astorg & Koreski, of Parkersburg; Stephen Littlepage, attorney, Hyer & Littlepage, of Point Pleasant; Rod Windom, attorney, of Harrisville; Jim Bennett, banker, Calhoun Banks, Grantsville; Tom Whaling, banker West Union Bank, West Union.
Six Foundation Board members and volunteers were honored for completing training in 2011. Diane Ludwig (LKACF), Jim Strader (RCCF), Paul Simon (MCCF), Jean Freeland (RCCF), Becky Deem (PACF) and Jennifer Davenport (RCCF).
The Little Kanawha Area Community Foundation is an affiliate of Our Community's Foundation, PACF and Regional Affiliates, a tax-exempt public charity created by generous local citizens that makes grants to nonprofits, schools, churches and municipalities in 11 counties and scholarships to students. While the Foundation offers many different types of charitable funds it focuses on building permanent funds called endowments that annually distribute some of their earnings forever. To learn more visit www.pacfwv.com