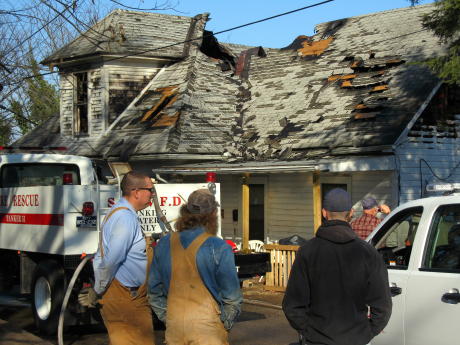 By Bob Weaver
Sarah Miller McAtee, 32, died in a fire in Spencer Thursday morning, with reliable sources saying she was trying to rescue her 10-year-old son from the inferno, believing he was still in the Circle Avenue house.
Both McAtee, her husband and child had escaped the dwelling after they failed to put out the blaze, when Sarah McAtee re-entered the dwelling.
Her husband, Michael McAtee, also re-entered the dwelling making an ill-fated attempt to bring his wife out of the burning house, although the boy was outside, uninjured.
Neighbors indicated they stopped him from re-entering the inferno a second time.
Michael McAtee has been taken to a burn center with serious burns.
Spencer-Roane firemen discovered her body in an upstairs room, reportedly after a Roane County deputy sheriff made an ill-fated effort to rescue the woman.
Informed sources at the scene indicated the child likely started the fire by accidentally dropping pictures he had drawn into a wall heater.
The family has two other children, not at home at the time of the fire.
The State Fire Marshal was on-scene shortly after the fire, investigating the cause of death.
The body has been sent to the WV Medical Examiners Office.