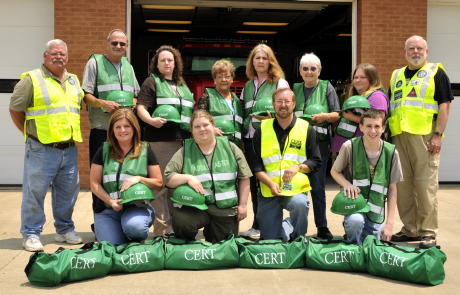 Elizabeth, W.Va. - The Wirt County Community Emergency Response Team (CERT) is seeking new members in 2012.
The CERT Program educates people about disaster preparedness for hazards that may impact their area and trains them in basic disaster response skills, such as fire safety, light search and rescue, team organization, and disaster medical operations.
Using the training learned in the classroom and during exercises, CERT members can assist others in their neighborhood or workplace following an event when professional responders are not immediately available to help.
Started by the Los Angeles City Fire Department (LAFD) in 1985, CERT has been adopted and expanded by the Federal Emergency Management Agency (FEMA), the Emergency Management Institute (EMI), and National Fire Academy to communities throughout the United States. Today, Los Angeles CERT has more than 30,000 members alone. Nationally, over 1,100 communities have active CERT programs.
Wirt County CERT is an affiliate of the larger Mid-Ohio Valley CERT program, spearheaded by the Mid-Ohio Valley Health Department. Wirt County CERT meets once per month, with many more opportunities for training throughout the Mid-Ohio Valley also available.
In 2012, Wirt County CERT members will be concentrating their activities on basic disaster search and rescue techniques, the Project Lifesaver search program, Disaster Assessment Team (DAT) training, Weather Spotter training, Amateur Radio Technician certifications, Global Positioning System (GPS) training, basic CPR and First Aid certifications, and on-line National Incident Management System (NIMS) training. Additionally, members of Wirt County CERT will be participating in numerous statewide, regional, and local disaster and preparedness drills.
Wirt County CERT has a recruitment goal for 2012 to grow the program to 50 members. "We have a great core group to grow on, but we need to meet a critical mass in order to make the program truly sustainable and critically functional", states Wirt County Chapter Leader Bo Wriston.
"Wirt County CERT is here to promote public safety preparedness, enabling us as team members to have the proper training, skills, and knowledge to help our families, friends, and neighbors during emergencies either small or large. It is about connecting all of us together and to exemplify the fundamental American tenant of being thy brother's keeper."
The next Wirt County CERT meeting will be Friday, February 17, 2012, 6PM, at the Elizabeth/Wirt Volunteer Fire Department. Anyone interested in becoming a member or in learning more about CERT is invited to attend.
For further information, contact Wirt County Office of Emergency Services Director Bo Wriston at 304-629-3735, or via email at wirtcooes@gmail.com