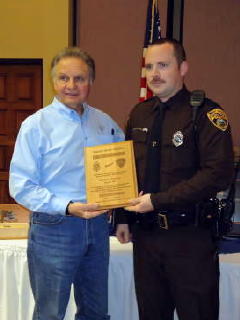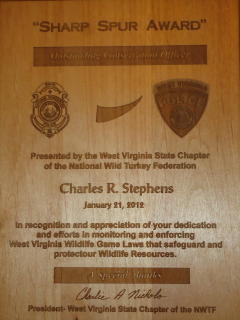 Frank Jezioro presents Officer Charles
Stephens with the "Sharp Spur Award"
South Charleston, WV - NRPO Charles Stephens was presented with the prestigious "Sharp Spur Award" by Frank Jezioro, Director of the West Virginia Division of Natural Resources in recognition and appreciation of his dedication and efforts in monitoring and enforcing laws that safeguard and protect our wildlife resources.
The award was presented at the WV State Chapter of NWTF Awards banquet held in Flatwoods, WV on January 14.
NRPO Stephens was selected as state officer of the year by the West Virginia Chapter of the National Wild Turkey Federation. Officer Stephens is currently assigned to Calhoun County in District 6.
In 2011, Officer Stephens investigated three illegal turkey bait sites and seized four illegally killed wild turkeys. Officer Stephens is actively involved in his community, has a strong working relationship within the Law Enforcement Community, and is an avid sportsman.
"Officer Stephens is to be commended for his hard work and commitment to the Law Enforcement Section and the residents of our great state," Director Jezioro said.