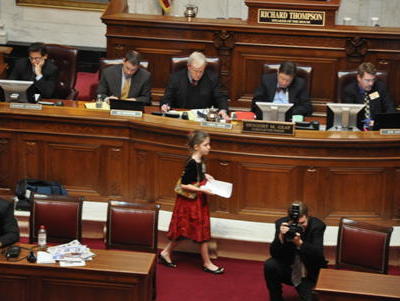 Morgan Moneypenny delivers documents in the House of Delegates
By Dan Cosgrove
CMS Social Studies Teacher
(Mt. Zion, WV) - On January 18, 2012, twenty-three 6th and 7th grade student from Calhoun Middle/High School descended on the state capitol to serve as Legislative Pages in both the Senate and House of Delegates. In business attire, these students arrived at the capitol and quickly were whisked away to learn the responsibilities of their assignments. Ten students were assigned to work in the Senate and thirteen in the House of Delegates.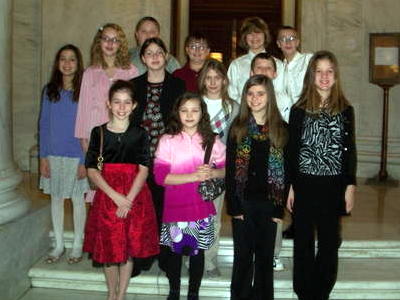 House of Delegates Pages: Front row (L-R) Morgan Moneypenny, Amy Morris, Selena Rush, Carrisa Yoak Second Row (L-R) Mary Bever, Jocelynn Heiney, Kaleb Nicholas Back Row (L-R) Natalie Allen, Emily Metz, David Marks, Roby Farmer, Levi Estep, and James Isenhart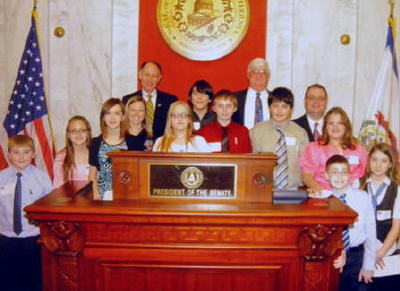 Senate Pages: (L-R) Dustin Deweese, Kaylee Jarvis,
Savannah Falls, Amy Nicholas, Senator Kessler, Shania
Fischer, Jordan Heiney, Ben Frederick, Senator Edgell, Riley
Holcomb, unknown (man), Selena McCoy, Zane Dye and Holly Rose
During the session of both houses, students retrieved faxes, made copies, got drinks, and completed many other tasks to ensure the steady and smooth flow of the lawmaking business of the legislative branch of government. A goal of the Page Program is to provide students with a "meaningful and exciting experience in state government, giving them firsthand learning experiences regarding the role of the legislators in the state. Students also share thoughts and ideas with legislators as lawmakers formulate and make decisions affecting every citizen". Students wrote reflections on their trip:
Seventh grade student Selena McCoy admitted being a little nervous and "thought I was out of place." However, by the end of the trip she realized that they "were just like us and I did not want to leave." Jocelynn Heiney stated one of her favorite part was meeting "a new friend, Brady Paxton" (a delegate from Putnam County). Many of the students commented on how nice everyone was, and how they felt at ease during their visit. Natalie Allen mentioned "all of the delegates were very polite." Senator Edgell and Delegate Walker were both mentioned numerous times on how helpful they were, and simply how nice they were. Emily Metz also got to meet Miss West Virginia.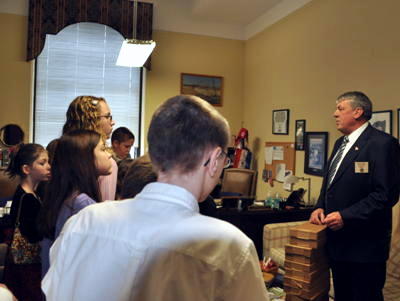 Delegate Walker meets with students in his
office and gives them copies of the WV Blue Book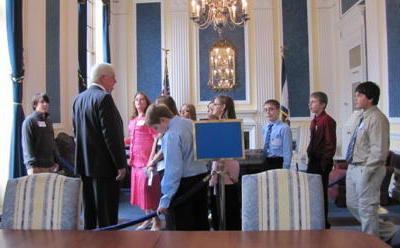 Senator Edgell gives students a tour of the capitol
During the session, Roby Farmer enjoyed when "delegate David Walker announced us to the other delegates." Carissa Yoak was thrilled with her role, "The part I liked the most was when I went and got the bill that was the first one passed in 2012." Selina Rush mentioned how they had to walk up to the delegates and ask "how may I help sir?" The building itself made an impact on the students. David Marks mentioned how big the capitol building is on the inside and "when you look up it makes you dizzy." They all mentioned the vast amount of marble and the chandelier in the rotunda. Ben Frederick and Jordan Heiney were impressed that "the dome is made of real gold!"
Holly Rose thought the trip "was an awesome adventure," while Savannah Falls stated "It was a huge honor to be there." Amy Morris and Riley Holcomb both thought "it was really fun." Shania Fischer summed it up by saying, "The class trip we went to was really amazing. It was a trip I will never forget."
Special thanks to the legislators who sponsored the students. This included Delegate David Walker and Senators Larry Edgell and Jeffrey Kessler. These legislators went out of their way to make the students feel at ease and part of the process. Senator Edgell took the Senate Pages on a personal tour of the capitol and invited students back to his office for pictures. Walker also invited the students back to his office after the sessions for talks. He gave each student a copy of the WV Blue Book.
We would also like to thank our parent chaperones Donna Yoak and Cathy Rush. Teachers included Amy Nicholas and Dan Cosgrove. Families, friends and the entire community can be proud of these young students. We received a number of compliments and positive feedback from secretaries, security personnel, legislators and cafeteria workers. Both Edgell and Walker contacted the school after the trip to comment on the students' outstanding performance and behavior.