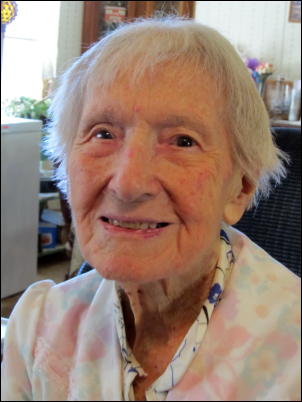 Calhouner Opal Houchin Jett will be 100 this weekend, celebrating with an open house Saturday, January 28 from 1-4 p.m. at her homes on Spring Run, Arnoldsburg.
"I've tried to live right, the best I could and not be a burden, with the help of the Good Man," she said.
Opal admitted, "It's not all been sunshine. I've had to work hard," saying, "I'd like to see the bales of hay I've lifted in my lifetime in one pile."
She's looking forward to getting cards and have folks come to her party.
"I'm glad the good Lord has let me stay around this long," she concluded.
Send a card to: Opal Jett, 2457 Road Run Road, Arnoldsburg WV 25234.
See 'WE NEVER WENT HUNGRY' - Opal Houchin Jett Hitting 100, Send Her A Card