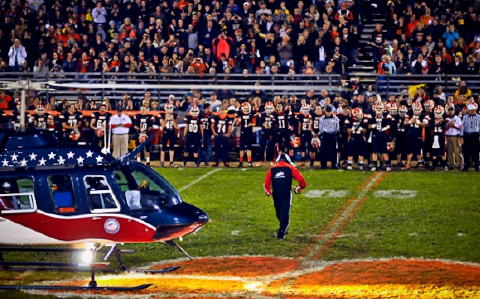 Air Evac Lifeteam delivering the game ball to last
year's Williamstown-Wirt football game in Elizabeth
Air Evac Lifeteam will hold an informational presentation at the Elizabeth/Wirt Volunteer Fire Department from 6 to 9 p.m., Friday, February 3, to discuss Air Evac Lifeteam medical operational capabilities and membership opportunities.
All residents of Wirt County are invited to attend.
What began as a simple dream in 1985 to provide helicopter ambulance service to citizens in a rural south-Missouri community has culminated today into one of the leading air ambulance companies in the United States.
Although much has changed since its first flight in 1985, Air Evac Lifeteam has maintained the same principle throughout its 26-year odyssey: The patient always comes first. A quarter of a century later, that same patient-first principle remains the foundation for the company's success.
The Parkersburg helicopter is also equipped with state-of-the-art medical equipment, including the use of Night Vision Goggles (NVGs). NVGs are particularly useful on nights with little illumination in identifying emergency scene landing zones in difficult terrain, such as mountains and hills, by raising night-time vision to 20/20.
Air Evac Lifeteam was one of the first air ambulance service in the country to offer a membership program. Members pay an annual fee and, if they are flown by Air Evac Lifeteam for life-or limb-threatening medical emergencies, they do not have to pay for the flight.
Annual memberships are $50 for an individual, $55 for a couple and $60 for a household of three or more.
Air Evac Lifeteam serves the Parkersburg and surrounding communities.
For more information about Air Evac Lifeteam services, call 1-800-793-0010 or visit www.lifeteam.net
For information about Air Evac Lifeteam's membership program, contact Chris Pedersen at 740-434-3857.