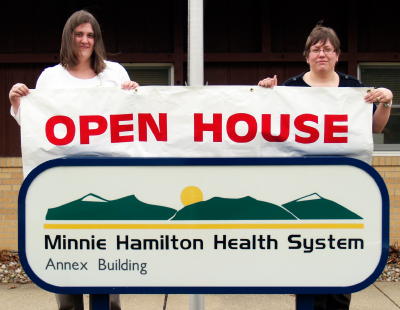 Sarah Harper (left) and Barb McKown, Minnie
Hamilton Health System Outreach Coordinators
Minnie Hamilton Health System will be holding an Open House today from 8:00 a.m. until 4:00 p.m. to make the community aware of the services they offer both new and old.
Each department will be creating a storyboard that will display their role at Minnie Hamilton Health System with some departments offering free services.
Some services offered include: fasting Lipid Panels from 7:00 a.m. to 10:00 a.m., blood pressure checks, glucose screening, oral cancer screening, body fat analysis, medical power of attorney and living wills, Obstructive Sleep Apnea screening, Chronic Obstructive Pulmonary Disease screening, Electrocardiograms (EKG's) and Oxygen Saturation Testing.
The Friends of Minnie Hamilton will be serving refreshments. Each department will be offering a door prize and Minnie Hamilton Health System will be sponsoring a 42" Vizio HDTV as the grand prize.
To be eligible for the grand prize drawing guests must visit each department storyboard.
To begin the storyboard tours please visit the front desk area for further information. Minnie Hamilton is excited to have you visit to take part in the storyboard tour and the many free services and door prizes.