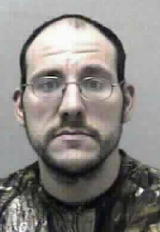 A fourth suspect connected to alleged meth-making operations in Calhoun has been arrested by the WV State Police.

Jason Michael Bell, 30, of Katies Run, Annamoriah, is in Central Regional Jail on $30,000 bond, accused of operating a clandestine meth lab.

Bell is the fourth person charged by the State Police, having earlier arrested Tiffany Davis, Harley Little, and Joshua Bond.

Trooper J. E. Kincaid, according to a criminal complaint, says he executed a search warrant for a Katies Run residence, where he discovered a shake and bake meth lab and in addition to items used in its manufacture.

The complaint said police obtained records where Bell had purchased ingredients used in making meth at Grantsville' Rite Aid pharmacy.