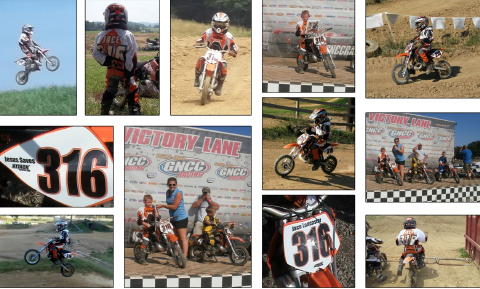 Jace Lancaster will be competing in the West Virginia Indoor Motocross Championship at the Big Sandy Arena on January 13 and 14.
Jace fell in love with dirt bikes and started racing at the age of 4. Now 7 years old and a 1st grade student at Arnoldsburg Elementary School, his passion for the sport is still going strong.
He is the son of Kyle and Tracy Lancaster of Arnoldsburg. Grandson of Joe and Sandra Lancaster, Grantsville and Ron and Connie Lane of Arnoldsburg.
The thrills and excitement of the West Virginia Indoor Motocross Championship will return to the Big Sandy Superstore Arena in Huntington on Friday and Saturday January 13th and 14th at 7:30 p.m.
The Huntington arenacross plays host to hundreds of local mini and amateur riders along with professional riders from the Tri State area and all over the country. Thousands of loyal motorcycle racing enthusiasts pack the arena for two incredible nights of racing.
Competitors beginning at 5 years old on 50cc mini bikes along with amateur riders of all ages and skill levels and an even more talented group of professional riders will compete in the event. Many of these pro riders are seeking thousands in prize money and eventually stardom on the National racing circuit.
Twelve hundred cubic yards of dirt will be used to construct the race track. Double, triple and tabletop jumps will keep the riders flying over 60 feet through the air all weekend long.