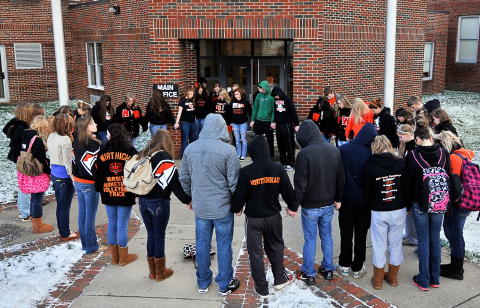 Photo courtesy of Edwin L. "Bo" Wriston
Wirt County High School students gathered in front of their school before classes Tuesday to comfort each other and remember their classmate 16-year-old Sarah Hennen.
The teen passed away suddenly Monday, the daughter of Wirt Assessor Debbie Hennen.
An additional group of students from Williamstown High School dressed in Wirt County Tiger gear joined the group in honor of Sarah.
Family members said Sarah was an amazing young lady, and was named the 2011 athlete of the week in the Parkersburg News and Sentinel and received the single "A" Volleyball All-Tournament award.
She was a member of the Elizabeth United Methodist Church, and the Newark Shining Stars 4-H Club.
See complete obituary Sarah A. Hennen